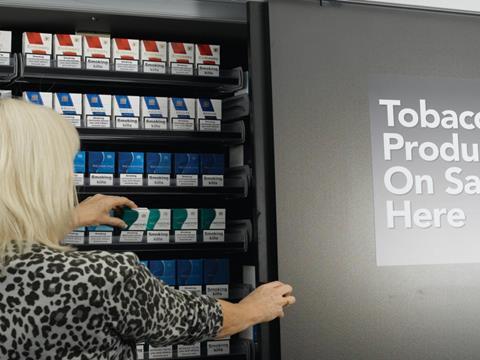 Few doubt that Imperial Tobacco's US expansion is transformational - whether it's wholly desirable is more contentious.
Imperial announced today it has paid $7.1bn (£4.2bn) for four US cigarette brands and a line of e-cigarettes from the soon-to-be merged US tobacco giants Reynolds and Lorillard.
CEO Alison Cooper called the deal to buy Winston, Maverick, Kool, Salem brands and e-cigarette brand blu a "great opportunity to transform our US business and secure a significant presence in the world's largest accessible profit pool."
Investors and analysts are not quite so convinced.
Imperial's shares fell 2.3% to 2,676 by mid-afternoon after the details of the widely speculated deal were released and analysts at Jefferies said they were "sceptical" around the benefits of increased US exposure.
The market sceptism is perhaps slightly odd on a surface level as the acquisition clearly makes a measure of strategic sense. The deal will grow Imperial overnight into the third biggest player in the US market, more than tripling its US share to approximately 10% from its current 3%.
Secondly, with net revenues of $2.4bn in 2013 and an operating profit of $0.6bn the brands look decent value at $7.1bn (8.8 x EBITDA of $0.8bn) aided by Reynolds and Lorillard effectively being forced sellers because of US anti-trust regulators.
The deal also makes the US a far more integral market to Imperial's operations – growing its US exposure from around 9% of its sales to approximately 24% of net revenues.
But this increased exposure to the US could prove to be something of a double-edged sword.
Though the US accounts for an estimated 25% of world tobacco profits (ex-China), it has long been a problem market for Imperial with sales and profits declining by 7% per annum since 2009, according to Jefferies.
"We believe that any deal would be dilutive to IMT's top-line growth in what is already a low-growth business," wrote Jefferies analyst Martin Deboo on Friday.
Deboo also said the assets included in the deal "don't feel hugely attractive". He notes, for example, that Kool is a distant number two in the Menthol market (to Newport) in a category facing regulatory risk and that Salem's share of the US market has halved over the past five years.
Imperial is becoming a bigger player in a big market – but its size will still be dwarfed by the combined Reynolds/Lorillard and Phillip Morris-owner Altria which together will represent almost 90% of US sales.
Interestingly, British American Tobacco's $4.7bn support of the deal to maintain its existing 42% stake in the now enlarged Reynolds suggests BAT could still have the flexibility to acquire Reynolds/Lorillard at a later date or, as Jefferies suggests, to buy out Imperial.
Though Imperial investors initially reacted cautiously to the news, the company's shares are up by 14.4% since the start of the year. British American Tobacco also traded downwards today, dropping 1.6% to 3,537.5p but the shares are over 9% up year-to-date.