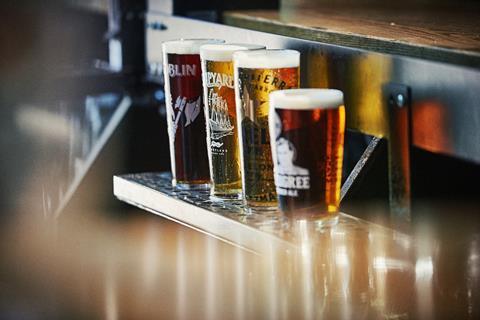 Investors and analysts raised a much-needed glass in celebration of the beer industry on Friday last week, as a merger of the brewing arms of Marston's and Carlsberg UK was widely cheered as a win for both parties.

Faced with a deepening crisis for the brewing industry as pubs and bars remain shut across the country, the pair announced a deal to combine their brewing and distribution assets into a new business named Carlsberg Marston's Brewing Company, with a combined value of £780m.

Carlsberg will pay up to £273m to listed brewer and pubco Marston's as part of the deal, with £34m of Carlsberg's payment a deferred payment contingent on performance. Carlsberg will become the controlling shareholder, owning 60% of the joint venture, while Marston's owns 40%.

"If Carlsberg did UK beer transactions…" cheered Shore Capital, adding: "We have long espoused the attractions of Marston's Beer Co (including a growing portfolio of quality craft ales and world beers, supported by nationwide distribution) and how these were not reflected by its share price. Carlsberg would appear to agree."

Stifel said the deal "looks strategically sensible in a brewing industry where it increasingly pays to have scale", noting that the financials also make sense as Marston's leverage "had become unsustainably high and raising equity was arguably off the table".
Liberum upped its price target on Marston's to 90p from 65p as the deal "solves several near-term issues and should continue to drive value over the medium to long term".
Marston's shares had slumped by around 75% over the course of 2020 as the lockdown savaged stock prices across the leisure sector.
However, the shares more than doubled to 66p following the announcement, their highest level since early March, and remained at 65.5p by Thursday.
Elsewhere, Britvic shares were on the up after the soft drinks maker posted a rise in first-half sales and profits amid a "robust" start to its ­second half.

The Robinsons maker said it started the year with strong momentum, with first quarter sales up 2.6% ahead of last year. However, the coronavirus outbreak hit second quarter trading, particularly in the UK and Ireland where it has a strong presence in the out-of-home market.
Nonetheless, first half revenues increased of 1.4% and adjusted EBIT growth of 9.4%, while the company said it remains "well-placed to navigate the challenges of Covid-19" with a "solid balance sheet and trading momentum".
Britvic shares ended the day up 6% at 763.5p.