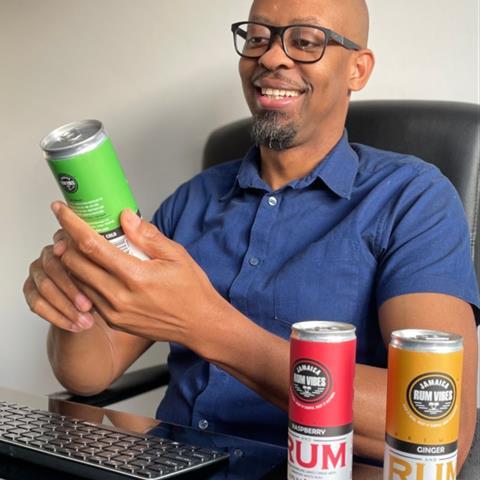 RTD rum cocktail start-up Jamaica Rum Vibes has received backing from drink giant AB InBev's venture capital arm.
It follows the business completing an accelerator programme at Add Psalt, which focuses on growing black-owned brands in UK grocery.
ZX Ventures and Add Psalt will each hold a minority stake in the company, with Jamaica Rum founder Tamoy Carter retaining a majority holding.
The terms of the deal were undisclosed.
Jamaica Rum, launched in 2019, will use the investment to complete a brand refresh, expand production and distribution, and advance sales and marketing.
Carter said the partnership with ZX Ventures was "an important milestone" for Jamaica Rum Vibes.
"I created Jamaica Rum Vibes with a vision to bring people together in one spirit by sharing a taste of the Jamaican culture. I'm looking forward to the continued partnership with ZX Ventures and the Add Psalt accelerator to bring this vision to life."
The three-strong range of ready-to-drink cocktails are made using natural ingredients and a blend of overproof white rum from selected distilleries in Jamaica.
Following the brand refresh, the cocktails will be available in retail outlets and online from April.
Daniel Obaseki, investment partner at ZX Ventures Europe and Africa Beverage Fund, added: "We are excited about the canned cocktail opportunity in the UK, and are pleased to partner with Tamoy to bring an authentic proposition to the market.
"A high-quality liquid and a dedicated founder with a Big Dream and the grit to bring it to life are critical elements we look for in potential investments. Jamaica Rum Vibes has shown to have this in abundance."
Not-for-profit Add Psalt, co-founded by Funk Consulting founder Lucy Smith and Innocent UK&I MD Sam Akinluyi, launched in January 2021 and has run two 15-week programmes so far.
Akinluyi said: "We're pleased to see how far Jamacia Rum Vibes has come. From being one of the first brands involved in our brand accelerator to getting this opportunity to expand, it is a real win for black-owned brands in the UK."