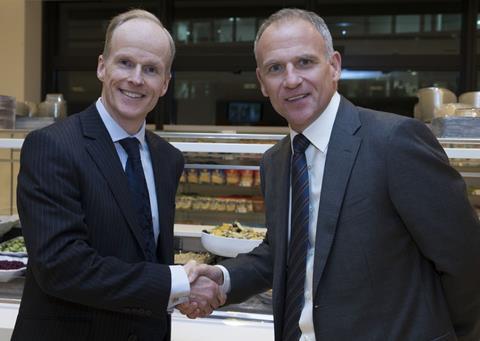 Although widely deemed inevitable, the announcement by the Competition & Markets Authority today that it is launching an investigation into Tesco's £3.7bn takeover of Booker is nevertheless a landmark moment in food and drink history.
It has huge implications both for the future of Tesco's turnaround plans, under CEO Dave Lewis, and for swathes of the industry more widely, from rival supermarkets to wholesalers, c-store owners and foodservice operators.
Since the respective giants sent shockwaves through the industry in January with their marriage plans, the verdict of the CMA has been looming in the background like an unpredictable and all-powerful father of the bride-to-be.
Behind the scenes its officials have already been locked in informal talks with both suitors, exchanging information, which is likely to have a vital bearing on the train of events to follow.
Now it is time for the industry to respond with its observations and objections ­- there will no doubt be many - with a deadline of 13 June for submissions to this, the "first phase" of an investigation that could drag on until mid-January next year if the CMA decides there are competition issues.
By then, Charles Wilson and Dave Lewis hope to have seen their plans, secretly hatched over the course of last year, become a reality.
The pair have consistently tried to shrug off the significance of competition concerns, based chiefly on the argument that Booker's franchise model means Tesco could add to its empire brands like Londis, Premier, Budgens and Happy Shopper without physically adding "more stores" to the union.
But the very fact that it has taken so long for the CMA to get to this point suggests there will be more to the outcome of this probe than a simple waving of the government green flag.
While a CMA first phase investigation was always going to happen, few would bet on the exact outcome of phase two if that indeed does get under way at the end of July, as many expect. Will Tesco be forced to sell off stores, such as those in its One Stop operation, or even parts of its Express empire, and if so how many? Will any such remedies go far enough to satisfy concerns over Tesco's potential new power to dictate prices for suppliers? Will Tesco shareholders rally behind the plans, amid mixed feelings to date?
If there's a phase two investigation, we will have another 24 weeks, potentially, until these questions will be answered. But the first step towards clarity has, at last, been made today.