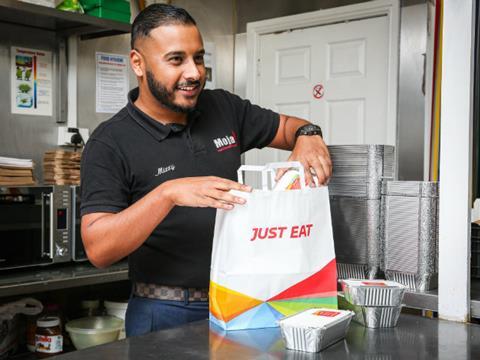 A juicy takeover war was kicked into gear this week as global suitors battle to grab a slice of the booming UK online takeaway delivery sector.
UK market leader Just Eat (JE) agreed a £9bn all-share merger with Dutch rival Takeaway.com in July to fight the advances of Deliveroo and Uber Eats into online delivery.
While broadly welcoming of the rationale, Just Eat investors were less convinced by the terms of the deal, , which seemed to offer them a skinny premium for their shares compared with other valuations in the thriving sector.
This week these investors were thrown a lifeline by a £4.9bn 710p per share cash offer from tech investor Prosus. The new bid was rejected by the Just Eat board, but this now looks like a starting gun for a bidding war between the two players.
Just Eat continues to hail the strategic benefits of a Takeaway.com tie-up, but the value of the deal has been hit in recent months by a slump in the Dutch company's share price, which has dragged the value of the transaction back to about 590p per share, from 731p per share back in July.
However, investors appeared little more enamoured with the Prosus bid – its third offer after previous confidential approaches of 670p and 700p per share.
"The Prosus offer is in many ways very cheeky and even more low-ball," said Neil Wilson, chief markets analyst at Markets.com. "It will up the ante and could force Takeaway.com into raising its offer as it looks in a weakened position due to the stock's decline."
One of Just Eat's largest investors, Aberdeen Standard Investments, called for Prosus to hike its bid by 20% to about 852p per share, valuing the company at £5.8bn.
Investors were set to vote on the Takeaway.com bid on 2 December, but it now seems inevitable there will be more bids before then.
While Just Eat continue to focus on the scale advantages a combination with Takeaway.com would offer, Prosus is not without synergies for the group.
Prosus already owns a portfolio of global food delivery businesses including iFood, Delivery Hero and Swiggy, with Just Eat itself owning 33% of Brazil's iFood. Prosus also insists it is in a better position to provide extra funding for the business to enable it to scale up its own delivery capabilities and lower its reliance on its existing – and less profitable – third party digital portal model.
Notably Just Eat's Q3 trading update on Monday showed a marked slowdown in order growth, which Prosus said "highlights the need to accelerate this investment to sustain its competitive advantage".
Given the CMA's interest in Amazon's tie-up with Deliveroo, other players in the sector are unlikely to be able to join to fight – meaning the takeover battle looks like a two-way shoot-out and will depend on who has the deeper pockets.
"We expect further bids to emerge, either in the form of an improved counteroffer from Takeaway.com or an improved bid from Prosus if the bid is not accepted by shareholders," said broker Liberum, noting both bids are far below the multiples achieved when Takeaway.com purchased Delivery Hero's German assets for €930m late last year.
Just Eat shares surged 24% to 732p on Tuesday and had hit 752.4p by Thursday lunchtime – indicating market expectations of an improved counter offer.