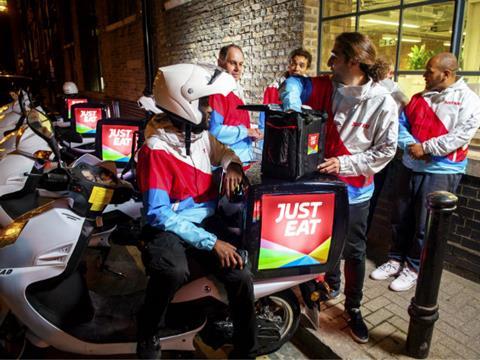 Just Eat (JE) has announced it has rejected a 710p per share, £4.9bn offer from South African investment firm Prosus, pledging instead to continue with its all-share merger with Dutch contemporary Takeaway.com.
Just Eat said its board has unanimously rejected the Prosus approach, following rejections of previous approach of 670p per share and 710p per share.
However, the new bid represents a premium of around 20% on the (as of Monday) 594p per share Takeaway.com offer, the value of which has been reduced by a fall in the Dutch company's shares since the bid was first accepted in August.
The new bid also represents a 20% premium on Just Eat's closing share price of 589.4p last night.
Prosus, which already owns a portfolio of global food delivery businesses including iFood, Delivery Hero and Swiggy, said Just Eat requires 'substantial investment in excess of that planned by Just Eat management".
"Prosus believes that this investment is required to enhance product, technology and own delivery capabilities in order to maintain its growth and defend its market positions in the face of intense competition.
Just Eat's Q3 trading update yesterday morning showed a slowdown in order growth, which Prosus said "highlights the need to accelerate this investment to sustain its competitive advantage".
"Prosus does not believe that the proposed combination with Takeaway.com will fully or effectively address this investment need."
The investment, which comprises the global empire of South African group Naspers' consumer internet assets, suggested Just Eat will need to take a larger chunk of the own delivery market, rather than rely too heavily on revenues from being a third party order portal for restaurants.
Bob van Dijk, group CEO of Prosus said: "We believe our global experience and resources can help Just Eat to achieve its significant potential. Our plan is to support the Just Eat management team, with whom we have worked closely as joint investors in iFood, to deliver on the exciting opportunities to grow the business.
"We believe that Just Eat's customers and restaurant partners will ultimately benefit from more delivery options, greater restaurant choice as well as improved service and delivery speeds driven by the combined group's expertise in product and technology innovation supported by increased capital investment in the business. As a combined group, we see significant growth and value creation potential."
However, Just Eat insisted the higher up-front cash offer "fails to appropriately reflect the quality of Just Eat and its attractive assets and prospects, the benefits of first mover advantage in a consolidating sector, and the significant future upside available to Just Eat shareholders through remaining invested in Just Eat and the Takeaway.com combination".
The Just Eat board stressed the existing Takeaway.com deal will create "one of the world's largest online food delivery platforms" and "a platform built around two of the world's largest profit pools in food delivery".
Just Eat shareholders are scheduled to vote on the Takeaway.com offer scheme vote on 4 December.
Neil Wilson, chief markets analyst at Markets.com, commented: "Prosus has sniffed an opportunity as the all-stock offer from Takeaway.com has left JE shareholders nursing paper losses due to a drop in Takeaway.com shares.
"The more Takeaway.com shares fell after the bid the less attractive the offer and the greater the likelihood of a cash counter bid."
Just Eat shares have surged 24.5% to 734p on the news of the new bid.