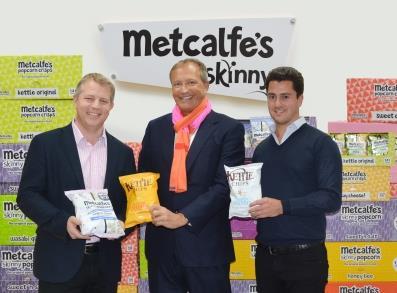 The US owner of Kettle Chips has snapped up a minority stake in popcorn brand Metcalfe's Skinny.
Diamond Foods, which is listed in the NASDAQ stock exchange, has acquired a 26% of the business co-founded by Julian Metcalfe and Robert Jakobi in 2009 to take advantage of the rapidly growing demand for popcorn in the UK.
Metcalfe's Skinny's existing management team will continue to run the business as an independent subsidiary of Diamond.
"We are very excited to acquire an interest in Metcalfe's skinny, which is an incredibly innovative, fast-growing, premium brand appealing to 'foodie' consumers looking for lighter great tasting snacks," Kettle Chips UK MD Ashley said. "We look forward to working with the management team to support their future growth ambitions in the on-trend, high-growth popcorn snack category in the UK.
Metcalfe's added the investment would help it with strategic and financial infrastructure to maximise the growth potential of the brand in the UK and Europe.
Metcalfe and Jakobi said in joint statement: "We are very excited about the opportunity to expand Metcalfe's Skinny brand with the support and expertise of the Kettle organization."
The Grocer reported in May last year that the demerger of Metcalfe's Skinny from high-end Asian brand Itsu Grocery was set to generate a flurry of bidders, despite its bosses insisting the businesses were not for sale. Metcalfe's Skinny split from parent company Metcalfe's Food on 1 June to be run as a separate business from Itsu, with the parent company changing its name to Itsu Grocery.
Diamond, which operates the Diamond of California, Kettle Brand and Kettle Chips, Emerald and Pop Secret brands, is financing the undisclosed investment with cash. The US food group is itself currently in the process of being taken over by salty snack maker Snyder's-Lance in a $1.9bn deal.
The London office of corporate finance firm Houlihan Lokey advised the Metcalfe's Skinny team.