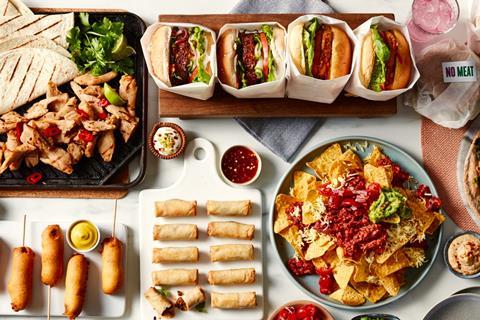 Vegan food and lifestyle company The Livekindly Collective has further expanded its portfolio with the acquisition of Iceland's No Meat plant-based brand.
Launched by Iceland in the spring of 2018 when it unveiled its No Bull burger, the No Meat brand has since grown to include a wide variety of frozen plant-based products, including mince and meatball alternatives, pastries, puddings and vegan pizzas, in addition to No Chick fillets and strips, No Duck spring rolls and No Fish fingers. The brand's products are also sold in Asda and Ocado.
As part of the acquisition, the value of which was undisclosed, Iceland will also enter a partnership with Livekindly that will see it "significantly expand our plant-based product offering in the UK", said the retailer's trading director for frozen Andrew Staniland.
And as a result, Livekindly's other brands such as Oumph, Like Meat and Fry's Family Food Co will go on sale across Iceland and Food Warehouse stores for the first time from April, with the No Meat brand also taken "to new customers globally", Staniland added. Livekindly has taken 100% ownership of the brand.
"We have been market leader in meeting rapidly increasing consumer demand for vegan products by developing No Meat, the world's largest frozen vegan range, combining great taste with outstanding value," he said.
"This new partnership will launch in January with our Veganuary sale, where we will have a whole host of new and exclusive No Meat products and savings for our customers to enjoy."
After last year's acquisition by Livekindly of Oumph and Fry's, followed by a $135m fundraising round in October, the move for No Meat was a "natural next step" for the business, said CEO and chairman Kees Kruythoff.
"Its strategy to meet the demand of consumers for healthier and more environmentally friendly vegan products mirrors our own commitment to protect the planet."
Livekindly Collective UK general manager Domenico Speciale added: "This acquisition is very complementary to our current portfolio, further strengthening our position in the frozen sector of the fast-growing plant-based meat category.
"No Meat has been such an incredible success with its award-winning, great-value and great-tasting products. This acquisition is a big step in delivering our mission of making plant-based food the new norm," he said.
"Iceland Foods has done an amazing job in building the brand over the last few years. The team has been brilliant in their approach by continually developing new products and rotating the range to bring excitement to the category."