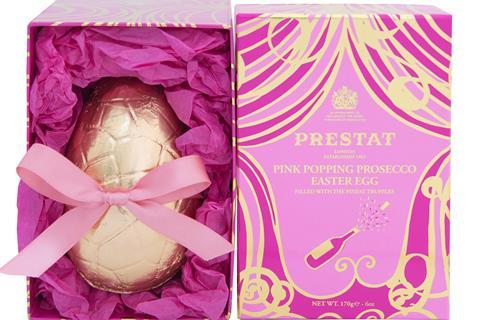 Italian coffee giant Illy Group has acquired historic London chocolate maker Prestat for an undisclosed sum.
The luxury chocolate manufacturer has been taken over by the family firm, best known in the UK for ground coffee and its cafes, after an 18-month search for investment.
Half-brothers and co-MDs, Nick Crean and Bill Keeling, have sold the brand they bought in 1997, but will continue to lead Prestat.
During the pair's ownership, Prestat has seen revenues grow from £100k to £8m, and is listed in Waitrose, Selfridges, Harrods and Fortnum & Mason.
Prestat, which employs nearly 100 people at its Park Royal factory, will become a wholly owned subsidiary of the group. The acquisition is understood to be part of Illy's plans to substantially grow its presence in the UK.
The 117-year-old London business will start to supply Illy's Italian luxury chocolate brand Domori as part of the move, and has almost completed a transition to using Domori's couvertures (base chocolate) in its products.
Prestat's product quality "will only improve" as part of the deal and the brand is now lined up for further investment by its new owners, Crean told The Grocer.
"I think this is the most exciting time for Prestat since we bought it 22 years ago," he said. "It means we will have access to the best quality couverture and we can provide our clients with superior, ethical chocolate.
"This is a major step into the UK for Illy. For us, there comes a stage when you need to hand a business on and gain new finance, and we particularly liked Illy Group as a family business which really understands the quality of the product and its ethics.
"We are still on board and will be working with the business for three to five years, but Illy now have 100% ownership and are completely committed to investing in the future of the brand."
Illy and Prestat, which also has a retail store in Piccadilly, have closed the deal following discussions for around a year, said the former owners.
Keeling added: "Gaining access to what many believe are the world's finest couvertures, together with the support of Gruppo Illy's financial strength and a range of new distribution opportunities, makes Prestat's future very exciting."
Riccardo Illy, chairman of the group said: "The deal is consistent with the DNA of the group, constantly looking for a proposal of the highest quality offer and reinforces the growth in the chocolate business in which the group is already present with Domori.
"The two companies complement each other perfectly and have a geographical presence in the main world markets, based on a passion for excellence in chocolate."