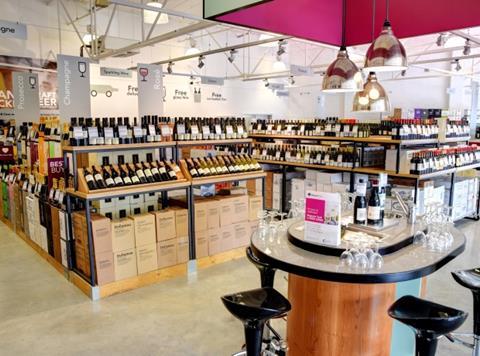 Top story
Majestic Wine (WINE) has sold its Majestic-branded retail division and its commercial business to US investor Fortress Investment Group for £95m.
The deal which includes the company's stores, website, headquarters plus on-trade and French divisions, is for £95m with the separate sale of one freehold property to an independent party expected to raise a further £5m.
The deal includes an initial cash payment of £78m, a £5m payment deferred for two years and contingent on the post-Brexit regulatory landscape and performance and a further £12m to be retained by the buyer in the form of a loan note.
The listed Majestic Wine group said the sale represents "a major milestone in the group's history" and will enable it to focus on driving growth in the Naked Wines business "which has a disruptive online model and operates in fast growing markets".
Majestic CEO Rowan Gormley said: "I am delighted that we have managed to secure an independent future for both Naked and Majestic Retail and Commercial, allowing both companies to pursue growth by focusing on their unique propositions.
"We look forward to the future and continuing to focus on what we do best… sharing our spectacular wines from our hundreds of talented winemakers with our customers."
Majestic, founded in 1980, sells over 37 million bottles of wine, spirits and beers each year and has over a million customers with turnover of over £300m last year.
Fortress pointed to Majestic's "strong cross channel journey, expert staff and widespread brand affection" as rationale for the deal.
It said there is still a "key role to be played for face to face retail" and that wine is "uniquely placed to provide an experience which cannot be found online".
"Majestic has been on the UK high street for almost 40 years, building a bank of affection for our bottles, people and stores" said Joshua Lincoln, MD at Majestic. "In March when it was announced Majestic may be closed, or rebranded, I received thousands of emails from concerned customers - with some incredible stories about our wines and people. It made finding a suitable buyer for the business crucial."
"We intend to be the leader in the U.K. retail revolution with a focus on experience, expertise and product. Over 1,000 roles and Majestic's store network will remain. Majestic has grown through periods of dramatic change, I know we have the recipe to do it again. We want to keep investing in our stores, in our people and our product - everything you can feel, touch and sip. After all, you cannot taste wine online."
Fortress stated: "Majestic is a British institution, occupying a unique position as the nation's largest wine retailer. It offers a seamless customer experience across multiple channels —physical retail, online, subscription and to the on-trade—and has a customer base which loves its stores, people, brand and - of course - wines. We are excited to work with management to grow the Majestic story."
Majestic said today it is conducting a full range review to ensure it is stocking "the right products to justify our title as the UK's only nationwide specialist".
This review is being overseen by new buying and merchandising director, Robert Cooke, formerly director of BWS at Tesco.
Majestic is also refitting its store estate, using shelving and new tasting areas, to make them easier to navigate. There are also plans to roll out a new "Wineify" service in stores to gauge a customer's palate with eight wines to direct them to different styles of wine which can then be browsed online, or in-store.
Morning update
This week's editition of The Grocer reveals two baby food brands to receive multi-million pound investments to shake-up the sector, has analysis of the Just Eat £9bn merger, Cranswick's push into non-food and more.
Check out thegrocer.co.uk/finance later today for full details.
On the markets this morning, the FTSE 100 has dropped1.5% to 7,457.5pts as US President Donald Trump has further ratcheted up trade tensions with China causing a slump in global markets.
Amongst the plethora of fallers are Total Produce (TOT), down 4.6% to 125p, McColl's (MCLS), down 4.1% to 65.3p, Just Eat (JE), down 3% to 735.4p, FeverTree (FEVR), down 3% to 2,369p and Marks & Spencer (MKS), down 2.6% to 202.5p.
Majestic Wine shares are up 0.4% this morning on news of the transformational retail sale.
Other risers include Hilton Food Group (HFG), up 1.1% to 943p, Bakkavor, up 0.6% to 106.2p and Marston's (MARS), up 0.3% to 108.9p.
Yesterday in the City
The FTSE 100 ended the day flat at 7,584.9pts yesterday.
British American Tobacco (BATS) surged up 6.9% to 3,155.5p after posting its interim results with first half revenues up by 4.6% to £12.2bn as growth in pricing and new categories mitigated a continued decline in sales volumes.
BAT's share price jump helped fellow FTSE 100 tobacco contemporary Imperial Brands (IMB) rise 2.6% to 2,149.5p.
There were a number of other FTSE 100 risers in the sector, including Diageo (DGE), up 2.4% to 3,526p, Coca-Cola HBC (CCH), up 2.2% to 2,898p, Associated British Foods (ABF), up 1.9% to 2,466p and Compass Group (CPG), up 1.3% to 2,110p.
Other risers included FeverTree (FEVR), up 4.5% to 2,442p, Mitchells & Butlers (MAB), up 4.1% to 316.5p, Marston's (MARS), up 1.5% to 108.5p and Majestic Wine, up 1.2% to 259p.
Fallers included Glanbia (GLB), which continued its slump from Wednesday, dropping a further 7.1% to €10.96, DS Smith (SMDS), down 2.6% to 347.3p, Reckitt Benckiser (RB), down 2.5% to 6,212p, PayPoint (PAY), down 2.3% to 929p, Nichols (NICL), down 2.2% to 1,760p and B&M European Value Retail (BME), down 1.9% to 363p.