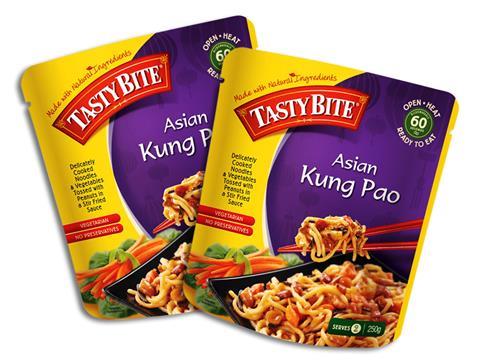 Mars Food has agreed to acquire the owner of all-natural Indian and Asian food brand Tasty Bite, which has been sold in UK supermarkets since 2016, to build a portfolio of healthier products demanded by consumers.
The Tasty Bite ready-to-heat portfolio includes a range of vegetarian offerings, including Indian/Asian entrees, spice and simmer meal kits and organic rice and lentils.
The majority of its sales are generated in North America, but Tasty Bite owner Preferred Brands International also manufactures products for markets in the UK, New Zealand and Australia and for the foodservice industry in India.
The brand was launched nationally in the UK last year in organic food retailer Whole Foods, with listings following in Tesco and Costco.
Mars Food, which also own Uncle Ben's and Dolmio and is a division of multinational Mars Inc, said the deal brought together two "strong food businesses focused on delivering healthy, tasty, and convenient foods… to the world's dinner table".
"Tasty Bite's broad range of dinner time products, focused on Indian and Asian cuisines, makes it a natural complement to our existing portfolio," added Mars Food global president Fiona Dawson.
"Tasty Bite is a fast growing Indian/Asian dinner time brand. Upon closing of the acquisition of Tasty Bite, Mars Food will expand our all-natural vegetarian offerings in the US, and leverage Tasty Bite's strong product development pipeline, flavour expertise, and strategic sourcing of quality ingredients throughout our portfolio."
Tasty Bite CEO Ashok Vasudevan said: "The nearly quarter century of uninterrupted growth of Tasty Bite since its inception was powered by our deep commitment to sustainable practices and to the pursuit of consumer delight.
"Mars is one of the largest food companies in the world and a recognized leader and role model for corporate sustainability. Mars Foods' strong brand portfolio, global infrastructure, and shared values makes it well-positioned to take Tasty Bite to the next level.
The Tasty Bite brand was launched in 1995 with five all-natural, ready-to-eat Indian entrées. Almost, 20 years later, it now makes more than 30 products at a factory in Pune, India.
Preferred Brands also manufactures a range of natural, convenient and specialty foods and has more than 100 SKUs in total.
The acquisition, which was for an undisclosed sum, is subject to regulatory approvals and is expected to close by the final quarter of this year.