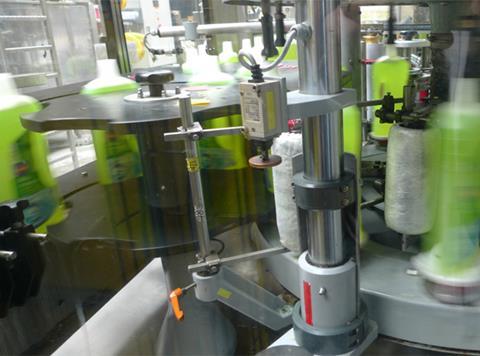 Top story
Own label household goods manufacturer McBride (MCB) has agreed a £12.5m sale of its European personal care liquids business and issued a profits warning on weaker than expected sales.
It announced this morning it has agreed terms with Royal Sanders for the disposal of the Group's European Personal Care liquids activities, which comprises two manufacturing sites at Bradford, UK and Leper, Belgium, which supply customers with a range of personal hygiene, haircare and oral care products.
The sales is for a cash consideration of £12.5m, payable on completion which is expected during the final quarter of 2018
In the 12 months to June 2017 the business generated revenues of £58.8m and an EBITA loss of £1.9m. Gross assets at 31 December 2017 were £19.8m.
For the 12 months to 30 June 2018, the business is expected to generate revenues of £56m and an EBITA loss of £2.8m.
Proceeds of the sale will be used to pay down group net debt and settle transaction costs.
CEO Rik De Vos commented: "The agreement to sell our European Personal Care liquids activities follows a comprehensive review of the business and marks the final element in the transformation plan for our European PCA activities. The transaction enables the business to be developed as part of a dedicated personal care manufacturer of greater scale and positions McBride's European operations as a focused Household business with a clear strategy to deliver sustainable profitable growth."
Meanwhile, the company said full year adjusted profit before tax is will come in "marginally below the lower end of analyst expectations" following weaker than expected sales in May and June.
It said since its half year results household revenues in the French market have continued to show declines year on year but this has been balanced by better than expected revenues in Germany and from Danlind, such that the Group had been trading in line with its overall internal expectations.
However, the group saw weaker than expected sales levels in certain markets in May, and whilst June saw an improvement, performance across the two months means that its earnings will fall below expectations.
Input costs overall have remained stable in the period since January, however the impact from increasing volumes in the final quarter have temporarily added to the group's operating costs, primarily from higher distribution and warehousing costs and some short term inefficiencies at certain factories.
Second half revenues for the Household segment on a like for like basis are showing growth of 3.8%. Total household revenues in the second half, including Danlind, are expected to be 15.8% higher than the same period of last financial year.
Meanwhile, its personal care & aerosols business will deliver losses marginally higher than expected levels, mainly due to revenue weakness
McBride will publish its preliminary results for the 12 months to 30 June 2018 on 6 September.
The shares have slumped 9% this morning to 120.1p - their lowest level since 2015.
Morning update
The UK Financial Reporting Council (FRC) has announced it has started an investigation into KPMG over its role in the collapse on alcohol retailer and wholesaler Conviviality.
The FRC has commenced an investigation into audit by KPMG of the financial statements of Conviviality for the 52 weeks ended 30 April 2017. It said its investigation will be conducted under the Audit Enforcement Procedure.
Conviviality went into administration on 5 April following the discovery of what it described as a "material error" in its 2016/17 accounts.
The group later found an unpaid and unexpected £30m tax bill that led to an emergency fundraising push, which eventually failed.
The FRC has also commenced an investigation under the Accountancy Scheme into the preparation and approval of Conviviality's financial statements and other financial information by a member of the Institute of Chartered Accountants in England and Wales
KPMG stated this morning: "We note today's announcement by the FRC of its investigation of the preparation, approval and audit of the financial statements of Conviviality for the year ended 30 April 2017. We believe we conducted our audit appropriately and will co-operate fully with the investigation.
"As reported by the company, it experienced margin weakness at the start of 2018 and also a significant payment to HMRC which had not been included within its short term cash flow projections, creating a short term funding requirement. Our audit of the company's financial statements for the year ended 30 April 2018 had not yet commenced at the point which administrators were appointed.
C&C Group bought Conviviality's wholesale business from administration while Bestway paid £7.5m for its retail business.
Elsewhere, Premier Foods has garnered more support for embattled CEO Gavin Darby as it fights calls from its second largest investor Oasis Management for him to step down.
Lord Ian MacLaurin, chairman of Tesco from 1985-1997 and Chairman of Vodafone from 1998-2006, and Lord Mark Price , who was MD of Waitrose (and deputy chair of John Lewis) from 2007-2016, have backed Darby.
Lord MacLaurin said: "I have known Gavin Darby for 25 years, firstly as his customer when he was at Coca Cola Europe and I was Chairman of Tesco, and then as his Chairman when he was at Vodafone. I have always found him to be an excellent manager, good with people, and a very strong strategic thinker.
"The grocery market has been going through turmoil in recent years. Against this backdrop, what Gavin has achieved at Premier Foods since he became CEO has been hugely impressive. He has significantly strengthened the Company's finances and transformed its brands. For Premier Foods to change CEO at this stage would be a mistake."
Lord Price added: "Premier Foods has serious structural issues when Gavin became CEO. Few CEOs would have taken them on. Since then the Company has restructured its debt, its pension deficit, sold assets and realised value and traded through a really demanding market. If these activist investors succeed in removing him they risk destroying significant value, rather than creating it."
On the markets this morning, The FTSE 100 is up 0.2% to 7,561.6pts as an early surge soon tailed off to a more modest rise.
Early risers include Glanbia (GLB), up 1.9% to €15.61, WH Smith (SMWH), up 1.2% to 1,992p and Devro (DVO), up 1.2% to 203.8p.
Fallers so far - in addition to McBride - include Majestic WINE (WINE), down 1.3% to 469p, Premier Foods (PFD), down 1.2% to 37.9p and McColl's (MCLS), down 1.1% to 217.5p.
Yesterday in the City
The strategic link-up between Tesco (TSCO) and Carrefour (CA) may have raised eyebrows in the City yesterday, but it failed to set pulses racing.
Tesco ended the day marginally down by 0.2% to 256.1p, while in Paris Carrefour dropped 1% to €13.74.
Tesco did though comfortably outperform the wider market, with the FTSE 100 dropping by a considerable 1.2% to 7,547.9pts on further fears over the tariffs and global trade.
Tesco also outperformed its supermarket rivals, with Sainsbury's (SBRY) down 1.3% to 317.2p and Morrisons (MRW) down 1% to 249.5p. Ocado (OCDO) had a better day, ending trading up 1.4% to 1,042p.
Other risers yesterday included McColl's (MCLS), up 5.3% to 220p, PayPoint (PAY), up 2.6% to 959p, Dairy Crest (DCG), up 1.8% to 500p, Reckitt Benckiser (RB) up 1.3% to 6322p, SSP Group (SSPG), up 1.2% to 642p and Marks & Spencer (MKS), up 1.2% to 290.5p.
Fallers included Glanbia (GLB), down 3.7% to €15.32, Greene King (GNK), down 2.7% to 560p, Finsbury Food Group (FIF), down 2.6% to 114.5p, Hilton Food Group (HFG), down 1.8% to 976p and WH Smith (SMWH), down 1.5% to 1,969p.