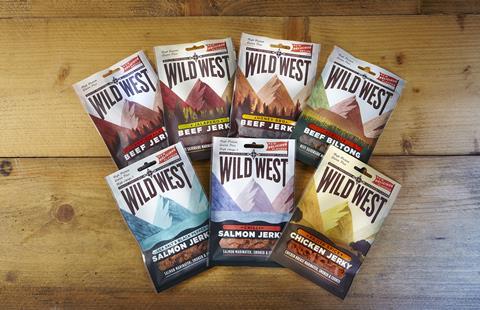 Australia-based entrepreneur Tony Quinn is to create a major player in the meat snacking category after bringing together the UK's two biggest biltong and jerky suppliers.

He has acquired Meatsnacks Group for an undisclosed sum, just six months after his purchase of the Kings Elite brand, as part of New World Foods.

Meatsnacks was founded by James Newitt as The Jerky Group in 2003. It produces the Wild West, Cruga and HogBites brands, among others. Newitt will remain as CEO.

The deal will bring six of the UK's 10 biggest-selling meat snacking brands in 2018 under Quinn's ownership, forming greater competition to Jack Link's, Europe's largest meat snacking company.

Meatsnacks and Kings will continue to operate as separate businesses, but expect to benefit from long-term synergies. Investment will be used to drive the growth of both businesses across Europe, with hopes to accelerate the growth of the meat snacking category.

Meatsnacks Group was formed in August 2015 following the merger of the Jerky Group and biltong maker Cruga. It is listed across the major multiples and also makes private-label products for Tesco and M&S.

Scottish-born Quinn, who sold liquorice business Darrell Lea for $200m last year, purchased York-based Kings Elite in September 2018 from founders Charlie, Mark and James Simpson-Daniel, and Mike Tindall.

The two suppliers' portfolios are complementary and would work alongside one another to drive category-wide growth, Newitt said.

"I remain very committed and enthusiastic about the meat snacking space, and building the category further with an investor behind me," he added. "Meatsnacks needed investment to move it to the next stages and that's what the collaboration will bring.

"For us a collaboration is absolutely necessary in order to maintain competitiveness in the marketplace. We see the combination of the portfolio of brands as an essential part of growing the meat snack space and growth in healthy snacking.
"Meatsnacks Group has significant growth and the Wild West brand is pioneering into Europe, so part of the expansion will be to grow in international markets. There is a big growth potential there."
Quinn is now sole director of the business, but has also retained Alan Craig to manage operations across the UK business.
The supplier slipped into the red in the year to 31 July 2017 on the back of soaring cost increases, while sales jumped 8.1% to £13m. The business has strengthened its position on the back of growth in the past year, the CEO added, with the business buoyed by the new investment.