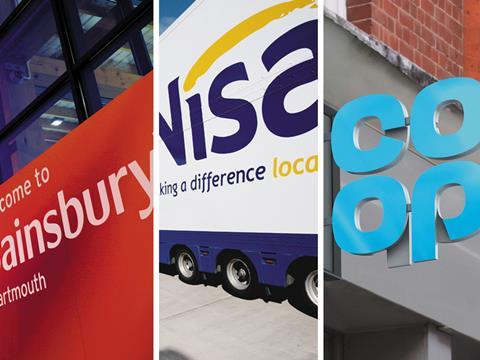 Nisa members would prefer a sale to Sainsbury's than the Co-op, an exclusive new poll for The Grocer has found.

The Him poll of 100 Nisa members found that in a straight shoot-out between Sainsbury's and the Co-op, 39% felt the Sainsbury's offer was best for them compared with just 21% who favoured the Co-op's approach. A further two-fifths (39%) said neither would be best for them.
Co-op Nisa takeover: Retailer survey
When other rumoured scenarios such as a sale to cash & carry specialist Bestway or a reunion with former member Costcutter were added to the mix, Sainsbury's remained the most popular choice, with over a third of Nisa members (35%) saying they would prefer a sale to Sainsbury's compared with 18% who opted for the Co-op.
Just 6% said they would prefer a sale to Bestway and 5% backed the Costcutter option; 34% would not fancy any of these options.
The poll was carried out immediately after the Co-op entered into a period of exclusivity with Nisa last week to carry out due diligence ahead of a potential formal offer.

The Co-op re-entered the race last month after Sainsbury's, which was the first suitor to be granted an exclusivity period, elected not to move to a formal offer and put its interest on hold until at least the end of October by which time the CMA will have published the findings of its phase two investigation into the Tesco-Booker merger.

While it remains unclear if Sainsbury's desire for Nisa has cooled completely, Nisa members clearly still see Sainsbury's as the most attractive potential partner. News of Sainsbury's and Co-op approaches for Nisa first broke in June, with the Nisa board favouring the £130m Sainsbury's bid even though Co-op offered £140m.

It is understood the that among the reasons for opting for the lower bid was that Sainsbury's was not dependent on Nisa retaining the business of its largest member, McColl's Retail Group, and that it appeared to provide more options for members regarding the future of their individual businesses, including an outright sale, a franchise model, or an option to remain independent, while retaining Sainsbury's as their primary wholesaler.

There was a lot of initial noise praising the Sainsbury's bid over the Co-op, so it is not entirely surprising that this is reflected in the current views of members, even though the Co-op has since come back with a renewed offer which still values the business around £140m despite the fact that Nisa did in fact lose the McColl's business in the intervening time. Full details of this revised bid have not been provided to the membership as it has yet to make a formal bid.
Which of the following scenarios would you prefer?
A sale to the Co-op:18%
A sale to Sainsbury's: 35%
A sale to Bestway: 6%
A new tie-up with Costcutter: 5%
Commenting on our poll results, a Co-op spokesman said: "This survey is premature. We are conducting due diligence and have not yet made a final offer. If we do, then we look forward to engaging with Nisa members to present the basis of our offer and how we intend to create a sustainable and mutually beneficial partnership for Nisa and Co-op members alike."

There is still plenty to play for, of course, should the Co-op make a formal bid. Of the Nisa members polled, only 23% said they expected a sale to the Co-op to go through compared with 26% who would expect it to be blocked. However; 51% remain are unsure.

When asked what was the most important factor in agreeing to a sale or merger with the Co-op, 36% said retaining their independence while 34% said it was being able to compete more effectively as a retailer. Just 14% said they would be most swayed by the thought of getting a good price for their shares.

It does appear that Nisa members do think a deal with the Co-op will make them more competitive as 60% said they felt the deal would be good news for the end shopper.