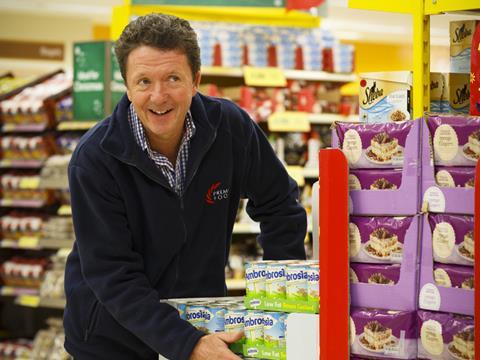 Premier Foods (PFD) CEO Gavin Darby has dismissed the notion that its partnership with Japanese food group Nissin is a bid defence tactic to protect it from McCormick's advances.
Premier Foods yesterday announced it had rejected two approaches from US food producer McCormick, the second of which was worth 60p a share.
In the same statement, Premier announced a new co-operation partnership with Japan's Nissin – which Nissin strengthened this morning by buying a 17.27% stake in Premier – but Darby told The Grocer the two events are "entirely and totally unrelated".
He said Premier began a concerted search for an international partner as far back as summer 2013 and had been in detailed discussions with Nissin for around a year.
"I realised three years ago that, although Premier is very strong in the UK, it would be great to have an international partner," he told The Grocer.
"We have had conversations with five companies across the world, three of them from Japan, and Nissin really came to the top of the pile about a year ago".
He said executives from Nissin had visited Premier in St Albans and he had made two visits this year to Japan to hammer out the details of the relationship. "All this this preceded any approach from McCormick," he said.
Darby said Premier could distribute Nissin's products, which are primarily noodles but also chilled and frozen goods, biscuits, confectionery and beverages, across the UK. He added that there is a particular crossover with Premier's own Batchelors brand and some Nissan products could be sold under the Batchelors label.
Additionally, Nissin can distribute Premier's products in its 19 overseas markets, giving Premier exposure to markets such as Brazil and China that are not currently a strategic focus.
The partnership is dependent on Premier Foods no longer being "under offer", according to UK takeover rules. McCormick has until 20 April to either make a formal bid for Premier or walk away.
Darby said McCormick's 60p per share was "well short" of an acceptable level for the Premier board given its confidence in its growth projections.
He added that McCormick was being "opportunistic" in concentrating on the 90% premium the bid represents to Premier Foods' market cap, when its enterprise value is the more important metric.
"Everyone who is invested in Premier and understands finance knows you have to look at Premier on the basis of enterprise value," Darby said. "Rather opportunistically McCormick is ignoring that and looking at it in terms of equity value. The real value of the company is much higher."
He added that on a EV to EBITDA multiple McCormick's valuation is around 10X – and this is a lower level than the 11X ratio achieved by United Biscuits in its sale to Yildiz, Monde Nissin's deal to buy Quorn at 17X and Mizkan's acquisition of Unilever's Ragu and Bertolli brands in the US for around 16X EV/EBITDA.
"It really comes back to growth," Darby said. "The board sees growth happening and that there's a lot more to come, so the board's valuation is well north of where McCormick currently is."
He added that the McCormick proposal also contains some conditionality around Premier's complex pensions arrangements, which could potentially mean the value of McCormick's bid could go down depending on its due diligence on the pension obligations.