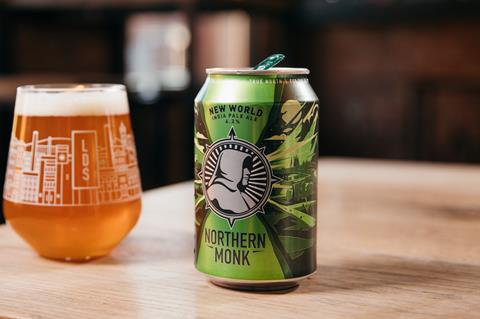 Leeds-based craft brewer Northern Monk has sold a stake in its business to private equity firm Active Partners.
The firm, which has also backed the likes of Leon, Honest Burgers and Secret Cinema, has snapped up a stake below 25% in Northern Monk, it was revealed this week, with Northern Monk now set to significantly boost its production capacity. Northern Monk did not disclose the value of the investment.
Northern Monk had been working with Active "for some time, in order for us to properly understand their business and for them to understand ours", said the brewery in a blog post on its website.
"They are deeply involved in the companies they support and make long-term investments into truly authentic and visionary brands. The passion for the businesses they work with has already led to collaborations we're really excited about."
The brand had turned down "numerous approaches from big beer acquirers, investment firms and the rest", it added. "It has always been a resounding 'no' from us. We have a strong independent spirit and if a potential investor doesn't share our values, or our vision for the future, we're not interested."
As well as boosting the brand's capacity, the deal meant Northern Monk would be able to open more of its 'Refectory' bars and create further jobs at its home in Holbeck, it said. It also plans to become one of the first UK breweries to be B-Corp accredited with Active's help.
There would be the opportunity "for all Northern Monk investors to sell some shares" with the move, it added. "We understand offering participation to all shareholders in a funding round of this nature, this early, is uncommon, maybe a first in beer – but as ever we are determined to do this the right way."
It follows a significant expansion for the brand in 2018, which saw it take on a second production site and utterly smash a £500k crowdfunding campaign, pulling in a whopping £1.48m from 2,090 investors.
Northern Monk's beers are currently available in Morrisons, Waitrose and Booths.
It has released a series of quirky collaborations over the past year, teaming up with brands such as Henderson's Relish for a limited edition Bloody Mary beer, and vegan street food brand Los Antojitos, with which it launched an IPA hot sauce.