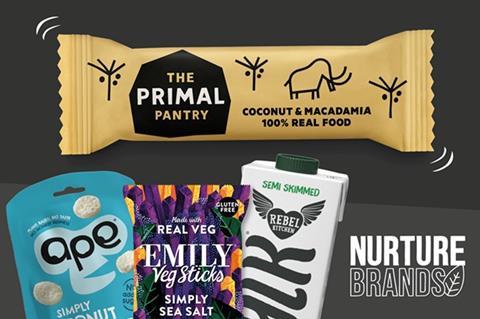 Fast-growing plant-based snacking group Nurture Brands has agreed a deal to buy healthy snack bar brand The Primal Pantry.
The Primal Pantry becomes the latest acquisition in the Nurture Brands portfolio, alongside other high-growth brands such as milk alternative Rebel Kitchen, crisps brand Emily and coconut-focused Ape Snacks.
Founded in March 2019 following the merger between Ape and Emily, Nurture Brands has said it aims to be the UK's fastest-growing plant-based snacking and beverage business.
"The Primal Pantry is a natural fit for Nurture Brands, sharing a common desire to make genuinely delicious, high quality plant-based snacks" said Nurture founder Ben Arbib.
"The Primal Pantry becomes our first purchase of 2020 and demonstrates our intent to be a key player in plant-based consumer goods in the UK and beyond".
Suzie Walker, who founded The Primal Pantry in 2013, will join Nurture Brands to assist in the transition and integration of the business.
Two years ago Primal Pantry secured a £3m investment from NVM Private Equity to help further expand its UK retail presence and boost international growth.
In 2016, The Grocer revealed that industry figures such as ex-Pret a Manger director Mark Palmer, former United Biscuits CEO Jeff van der Eems and former Cadbury chief strategy director Mark Reckitt took minority stakes in the business after a fundraising round led by specialist investment bank Stamford Partners.
Walker commented: "As a nutritionist, I created The Primal Pantry to offer all people a better quality of snack. Joining forces with Nurture Brands will not only help the brand reach more people and accelerate growth, but will allow the brand to remain true to our founding principles of good, honest, simple food."
Adam Draper, MD of Nurture Brands, added: "We look forward to building on the excellent foundations laid by Suzie and her team as we strive to create a world-class portfolio of plant-based brands that delight consumers.
"Looking ahead, Nurture Brands intends to keep driving organic growth from its core brands, but we have the capacity and agility to make additional acquisitions if brands and companies align with our thesis."