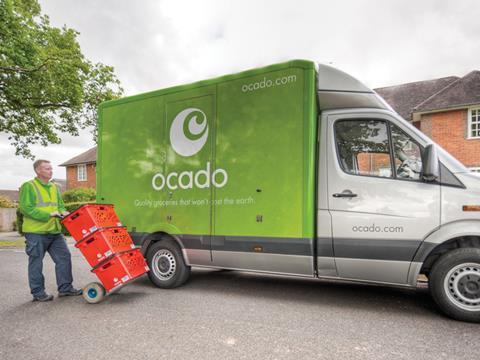 Ocado (OCDO) shares have hit a 10-month high today as speculation mounted that the online grocer had become an acquisition target in the wake of Amazon's surprise takeover of Whole Foods.
Ocado's shares had fallen to 264p – lows not seen since April – on Friday afternoon as news hit the market that Jeff Bezos' ecommerce behemoth offered $13.7bn (£10.7bn) for the organic food retailer.
However, the stock began its resurgence yesterday as analysts at Exane BNP Paribas hiked their target price from 220p to 325p as it conceded US groups may be weighing up a takeover after the Amazon deal in a defensive play.
The investment firm also upgraded the grocer from "underperform" to "outperform". Exane said Ocado's chances of signing a partnership deal had "increased materially" as retailers without an online platform were forced into "a rapid catch-up".
Shares in Ocado surged almost 12% higher to 308p on Monday, moving back towards its year-to-date highs of 318p – set earlier this month when it finally announced a first international deal. The stock is up a further 4% so far this morning to 319p – highs not seen since September last year.
Shareholders have been on a rollercoaster ride this year with prices seesawing for months, but the business is up 21% so far in 2017.
"We remain of the view that Ocado is unlikely to be an acquisition target, but we have to concede that the probability of an outright purchase has now increased," analysts at Exane said in a note. "More generally, if you are a US grocer and looking at the prospect of Amazon materially pushing on in online food, then, for all its many issues, Ocado is a business potentially ready and able to help you leapfrog the competition.
"Whether or not the eventual solution works for the retailer is still very much a question for us, but desperate times call for desperate measures and for Ocado that desperation could work to its advantage."
Morgan Stanley added in a note that implications of the Amazon/Whole Foods deal were mixed. "Negative for Ocado's core UK operations due to likely higher competition in UK online grocery, but positive for the strategic value of Ocado's online grocery fulfillment solution," analysts said.