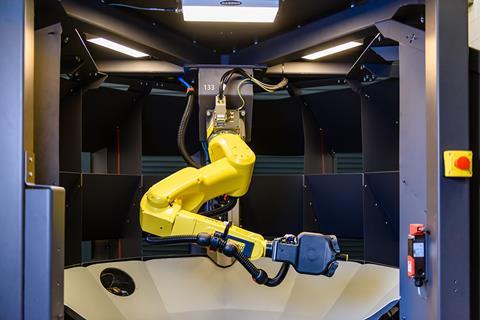 Ocado has said the robotic systems from the two US companies - Kindred Systems and Haddington Dynamics - it has today acquired will provide savings of £7m a year in every CFC they are rolled out to.
The companies promise to remove the reliance on human labour from two parts of the grocery fulfilment process: picking from totes and packing in bags, and 'decanting' inbound items into totes. Despite the highly automated nature of Ocado's and its partners' CFCs, these functions remain primarily manual, and costly.
"Our ultimate goal is generalised robotic manipulation" for the sector, Ocado head of corporate development Stewart McGuire said.
The £7m figure is based on replacing all labour costs associated with picking, packing and decanting at a standard size CFC with robots.
Ocado is already trialling five robotic picking systems at its Erith CFC. Their pick and pack speed has been doubled since installation, but the acquisitions will further accelerate development, McGuire said.
"We expect the combined teams to allow us to improve productivity, expand the pickable range, reduce errors and enhance the economics," he said.
The robots are also expected to work in other areas of grocery fulfilment; including depalletising, food handling and vertical farming.
Once developed, the robotic picking and decanting solutions will be offered as an "add-on" to all existing and future Ocado clients, CEO Tim Steiner said.
"You will need to hire fewer people to make those warehouses run at full output, you may discover full output grows as well. But the initial win is you'll be more productive," Steiner said.
"It allows us to offer clients an add-on service. Rather than us deploying a human pick station in your facility and you might have 100 depending on its size, we can offer to put in 40% to 80% robotic pick stations instead and have that amount of your range picked by robot. We'd offer that on a separate basis basically," Steiner added.
Steiner told The Grocer robotic picking and packing was around two or three years from "mass scale roll-out" but that Ocado Retail's Erith CFC would be a likely testing ground for the solutions until then. However, since Ocado's Hatfield and Dorden sites relied on third party infrastructure - not 'goods to person' picking systems - their use there would be limited.
"The vast majority of picking we do is not applicable for these robots," Steiner said.
Despite its potential to replace human workers, Steiner said the expectation is Ocado will be a "net-hirer" as its Erith site will continue to grow. "So headcount will go up," he said.