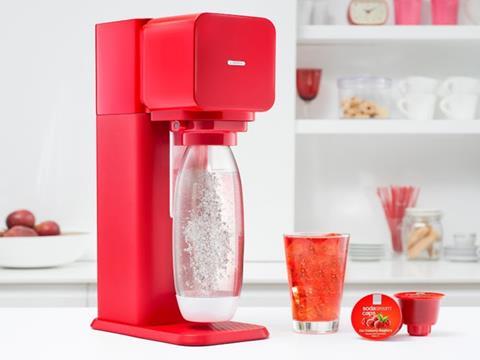 Top story
Pepsico (PEP) has agreed to buy home soft-drink-making business SodaStream International in a $3.2bn (£2.5bn) deal, it announced this morning.
The drink and snacks giant has continued the health-conscious acquisition-based growth model led by outgoing CEO Indra Nooyi.
The deal, which will see Pepsico pay $144 a share in cash, 11% up on Friday's closing price, will be the largest acquisition by PepsiCo in eight years.
The purchase, due to be completed in January 2019, is expected to be the last major move by Nooyi, who announced plans earlier this month to step down after 12 years in charge.
SodaStream, which fashions itself as a healthy alternative to most soft drinks, adds to PepsiCo's portfolio of healthier options, including fruit and vegetable snack brand Bare Foods and sparkling water brand Bubly.
The Israeli maker of home-dispensed drinks will continue to be led by current chief executive Daniel Birnbaum as Pepsi looks to increase its global distribution.
It is the second major soft drink deal in as many weeks, after main rival Coca-Cola bought a minority stake in BodyArmor, a sports drink brand backed by NBA star Kobe Bryant which is being positioned as a competitor to Pepsi's Gatorade.
"PepsiCo and SodaStream are an inspired match," said PepsiCo chairman and CEO Indra Nooyi.
"Daniel and his leadership team have built an extraordinary company that is offering consumers the ability to make great-tasting beverages while reducing the amount of waste generated. That focus is well-aligned with Performance with Purpose, our philosophy of making more nutritious products while limiting our environmental footprint."
Ramon Laguarta, CEO-Elect and President, PepsiCo, said: "SodaStream is highly complementary and incremental to our business, adding to our growing water portfolio, while catalyzing our ability to offer personalized in-home beverage solutions around the world."
Daniel Birnbaum, SodaStream CEO and director said, "Today marks an important milestone in the SodaStream journey. It is validation of our mission to bring healthy, convenient and environmentally friendly beverage solutions to consumers around the world.
"We are honored to be chosen as PepsiCo's beachhead for at home preparation to empower consumers around the world with additional choices. I am excited our team will have access to PepsiCo's vast capabilities and resources to take us to the next level."
Goldman Sachs and Centerview advised PepsiCo, while Perella Weinberg Partners gave advice to Israel-listed SodaStream.
Morning update
Sainsbury (SBRY) and Asda could have to dispose stores in as many as 300 locations, according to reports in The Times £.
The supermarkets may have to leave the stores in order to convince regulators to approve of their agreed merger.
An analysis by the newspaper and industry bodies using modelling techniques traditionally used by the Competition and Markets Authority (CMA) shows that local competition concerns would exist in around 300 catchment areas.
It had previously been understood that only around 85 stores were expected to be disposed in order to satisfy the CMA.
About half of the 300 store locations outlined could be deemed problem locations, according to the report, as they are in areas that natural buyers, Tesco and Wm Morrisons, might not be able or want to open in.
This could leave the field open for Waitrose, M&S and the Co-op, but all of these supermarkets have scaled back from large openings, with Waitrose all but ruling out new stores, and M&S reducing plans to open new food stores.
Experts say that discounters could therefore be important to the CMA's considerations. During CMA procedures for the Tesco-Booker merger, the authority considered Aldi and Lidl in its assessments for the first time.
The CMA has yet to open a formal investigation, which it is expected to do later in the year, but at the centre of its analysis will be detailed "filter test" assessments of the combined store portfolio to determine any possible negative impact on shopper choice.
This morning, the FTSE 100 has joined the European indexes in rising, moving up 0.4% to 7,585pts, after Greece confirmed it has now exited its bailout programme.
Early risers this morning include Debenhams (DEB), up 4.1% to 13.8p, PZ Cussons (PZC), up 1.7% to 237.7p, SSP Group (SSPG), up 1.3% to 698.8p and Ocado Group (OCDO), up 1% to 1,056p.
The fallers in early trading include McBride (MCB), down 3% to 130p, Hilton Food Group (HFG), down 2.1% to 920p, and Glanbia (GLB) down 1.4% to 14.8p.
This week in the city
As is often the case with August, we have now entered a post half-year results lull.
News continues to flow, but there are very few companies announcing results over the next few weeks.
Packaging and labelling giant MacFarlane will be posting its half-year results on Thursday.
The next major results announcements in the sector will come next week, with Hain Celestial (HAIN) announcing its full-year results on Tuesday 28 August, and Pernod Ricard (RI) announcing full-year results the day after.
In economic news the CBI Industrial Trends Surveys are out tomorrow, while the CBI's Distributive Trades Surveys are released on Thursday.