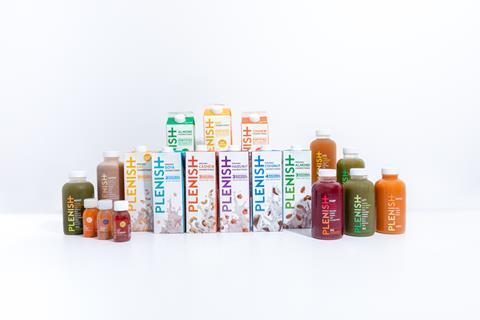 Plant-based drinks maker Plenish is set to take on Alpro and Oatly as part of a major retail push by new owner Britvic following its acquisition this week.
The deal is Britvic's first in Europe for more than a decade and marks the Robinsons owner's entry into the fast-growing plant-based category.
GB MD Paul Graham told The Grocer Britvic would be able to leverage its "fantastic" relationships with the mults to win listings with new retailers and expand the range in stores where Plenish already had a presence.
"There is potential for significant growth to come out of the brand," Graham said. "The offer is already there across the retailers and we can expand distribution. The category will develop further and the ranging, and offer of the ranging, will also develop further."
Founded by Kara Rosen in 2012, Plenish sells its range of dairy alternative milks in Sainsbury's, Waitrose, M&S, Ocado and Amazon, while the cold-pressed juice and functional shots are available in fewer places.
Graham said Plenish, which makes its products using high-quality ingredients sourced from sustainable, organic farms, had the opportunity to become "a big player" with the backing of Britvic.
"We are absolutely confident the product stands up to scrutiny against rivals in the category and it is differentiated in terms of the clean label, best-in-class ingredients, as well as the high nut content and lack of added oils and gums often found in dairy alternatives," he said.
He added there was plenty more room for the plant-based drinks category to grow household penetration and predicted the dairy alternative milk market alone would be worth £500m by 2024, up from £320m in 2019. As well as giving Britvic exposure to the plant-based space, Plenish helps with the group's sustainability ambitions, adding an accredited B Corp and certified carbon-negative business to its portfolio.
Rosen said: "Our plant-based drinks are still made like I originally made them at home – with best-in-class ingredients sourced from sustainable, organic farms and no additives. I'm so excited for Plenish to join forces with Britvic, who I've long admired as a brilliant builder of brands and shares similar values, particularly around healthier people and planet.
"Together we can reach more people in more places with products and programmes that help you feel good, made in a way that you can feel good about."