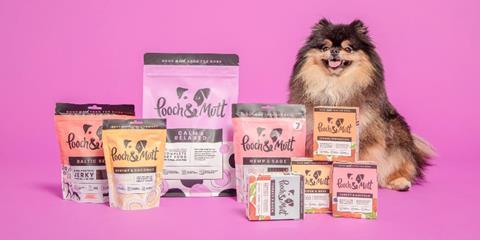 Petfood brand Pooch & Mutt has been taken over by long-term production partner and backer Vafo in "a multimillion-pound deal".
The European private label group initially took a minority stake in the fast-growing brand in 2020 and upped its ownership to 40% in 2022.
It has taken the final 60% holding for an undisclosed amount.
With Vafo's financial and production backing, Pooch & Mutt has grown by more than 400% in the past few years and is on track to generate about £18m in turnover for 2023.
Founder Guy Blaskey will stay on as a CVO ("chief visionary officer"), as well as continuing his role on the Vafo group's management team.
Day-to-day running of Pooch & Mutt will be handled by MD Paul Dennison.
"Unlike many corporate takeovers, this is not an exercise in efficiencies and cost-cutting," Blaskey said.
"Vafo has supported our growth over the last few years, during which time we have trebled out staff, quadruped our turnover and developed a whole host of amazing new products.
"It's great to see my baby grow up and go to a new home, and even better that I can stay involved and help it achieve the potential I have always known it has."
Blaskey added that Pooch & Mutt also acted as Vafo's representative in the UK, suppling retailers in the country with petfood products.
Later this year, the group will launch a second brand in the UK, 'Planet Pet Society', focusing on sustainable products.
Petr Kříž, Vafo board member responsible for M&A and strategy, said: "Pooch & Mutt's growth since our first investment has been incredible.
"A lot of companies promise big things in investment pitches, but few deliver. Pooch & Mutt promised very big things and delivered far beyond them. The team have done an outstanding job and they will be a huge asset to the group."
Pooch & Mutt makes a range of natural meals, treats and supplements for pets after launching as a dog health supplement company in 2007.
Czech-headquartered Vafo has annual revenues of more than €400m and operates out of eight factories across Europe.