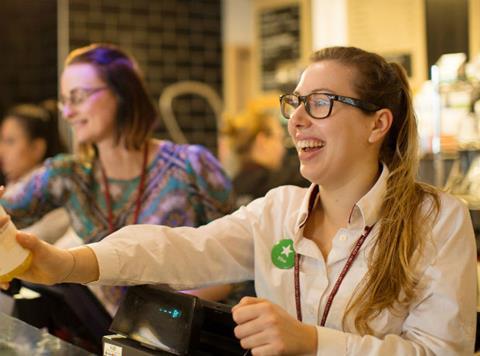 Food to go chain Pret a Manger is set for a renewed global expansion push following its £1.5bn sale to German-owned consumer investment giant JAB.

The deal, expected to be completed in the summer, will see the Luxembourg-based Krispy Kreme and Keurig Green Mountain coffee owner assume control of Pret after a decade of ownership by private equity group Bridgepoint.

Pret has significantly expanded its revenues and store estate during that period, now standing at 530 stores worldwide, generating group revenues of £879m with a 10-year CAGR of 15%.

Pret has expanded beyond its UK base, which makes up 381 of its 530 outlets, with 92 in the US, 26 in Hong Kong and 24 in France.
However, the pace of its global growth has remained relatively sedate compared with its continued rapid UK expansion, following a difficult initial launch in the US in 2000 as New York customers proved reluctant to buy pre-packaged lunches.

Industry analysts have tipped JAB to inject more pace into Pret's global expansion to maximise its new investment, particularly focused on growth across the US.

MCA Allegra Foodservice executive director Simon Stenning, who spent five years at Pret, called the £1.5bn price tag "a hell of a valuation… but arguably good value because of Pret's potential".

"JAB has got scope to ramp up Pret's business and go further and faster," he said. "The way in which JAB spans continents should help in terms of further international expansion."

Stanislas Duquesnoy, senior credit officer at ratings agency Moody's, agreed: "JAB will be able to provide capital for the international expansion of Pret."
Strong profits
The overall Pret business remains strongly profitable, posting a 10.6% rise in annual EBITDA to £93.2m and a 4.3% rise in operating profit to £48.4m.

Although Pret's US business grew sales by 29% to £148m in its most recently published financial accounts for 2016, the division extended its pre-tax losses to £11.2m from £3.6m in the previous period.

Stenning said Pret had "learnt lessons" from its initial expansion into the US. "The majority of Americans' food to go lunchtime habits are made to order, so Pret's quite unique over there, but it has an attractiveness… Starbucks proved that you can break down any national behaviours and stereotypes and a brand will transcend that."
Moody's also suggested there were likely to be synergies with other areas of JAB's sprawling network of consumer businesses.

"Pret can bring best practices to JAB's portfolio of brands and in turn benefit from some of the innovative concepts of other JAB brands," Duquesnoy added. "Pret will be very complementary to the broad portfolio of retail coffee and ready-to-eat food brands that JAB has built over the years and will to some extent rebalance the geographical profile of JAB Beech's portfolio currently fairly concentrated on the US."

However, Stenning cautioned the crossover for Pret's consumer offering could be more limited, with the chain unlikely to look to overhaul its coffee products and bring in other JAB brands given the work it has done on ethical sourcing.

"Pret is so distinctive and protective of its food and drink qualities… So I don't think it's something they'd rush to suddenly change," he said.