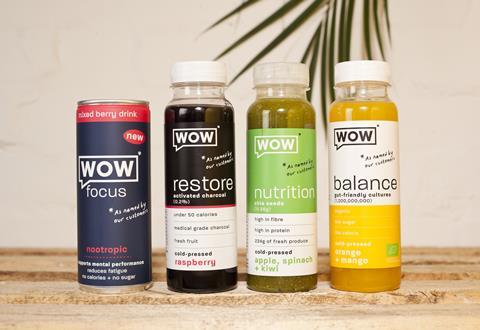 Plant-based drinks company Raylex Brands has bought up UK juice & drinks brand Wow Drinks to increase its push into the natural beverages market.
Raylex, which owns aloe vera drinks brand Simplee Aloe and CBD-infused range Drink 420, said the acquisition would help fulfil its "mission to build a portfolio of plant-based beverages".
Financial details of the deal were not disclosed.
"Wow has amazing presence in the cold-pressed juice space and this represents a unique opportunity for the Raylex Brands mission," Raylex CEO Alex Lai said.
"The brand is a natural fit under our company umbrella and we're thrilled to be working with them."
Founded in 2015, Wow launched with chia seed cold-pressed juices and later expanded into charcoal and nootropic beverages.
Wow's range is currently stocked in Sainsbury's, Waitrose, Asda, Whole Foods Market and Planet Organic, among others.
Following the acquisition, Raylex wants to focus on new product development.
Lai said: "With Wow now under Raylex Brand's direction we'll be seeking greater NPD."
The CEO added that bringing Wow - and specifically its functional beverage offerings - into its portfolio will help strenghten Raylex's presence within "mood targeted SKUs", such as nootropics drinks designed to boost alertness, support mental performance and reduce fatigue.
With regards to the future of Wow's management team, Lai said the company was still going through a transition process but "some of the team members will stay on".
Wow founder Oliver Dickinson said: "Wow has been fortunate to experience excellent growth over the past 24 months and its ability to launch first-to-market innovation was a clear match with Raylex Brands.
"I am not only confident but also extremely excited to watch the brand go from strength to strength under their brilliant leadership and market-leading vision."
Wow posted revenue of £864k in the 15-month-period ended September 2017, an increase of over 300% on the prior 13 months to June 2016.
The plant-based drinks market is forecast to grow 13.5% per year over the next five years, according to Syngene Research. This was driven by increased health consciousness among consumers and the rising popularity of plant-based diets, Raylex said.