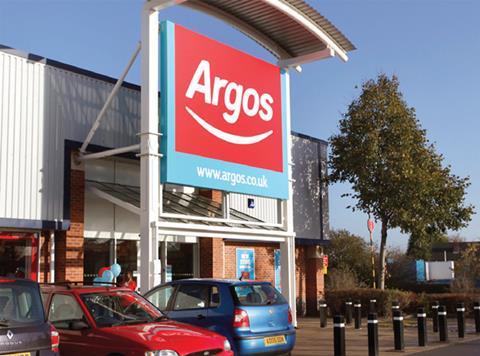 Sainsbury's CEO Mike Coupe and CFO John Rogers talked a good game this morning as they set out to persuade journalists of the strengths of a £1.3bn tie-up with Argos. The pair were audibly excited that after months of hard-fought negotiations with Home Retail Group, an offer had been accepted – in principle at least.
It's easy to see the reasons for the enthusiasm as the deal reduces the grocer's exposure to the horrendously competitive food market and will futureproof the business to compete with the growing threat from Amazon. Or so the rationale goes, at least.
Coupe says the two retailers combined could "bake a bigger cake" and do a better job for customers than either could alone. He added the merger would create an "industry, if not world-leading" network, with revenues of £6bn, offering more than 100,000 products (50,000 each) in 2,000 Sainsbury's and Argos stores. The group would be the biggest non-food retailer in the UK, leapfrogging John Lewis, M&S and Dixons Carphone at a stroke.
And a closer examination of the financials seems to suggest Sainsbury's may have played a shrewd game in not overpaying for Home Retail. After an initial £1bn offer in November was rejected and the bid became public in January, Sainsbury's has been locked in negotiations with the Home Retail board – with reports that at least two other offers of below 160p per share were also rebuffed. Home Retail shareholders such as investment bank group Schroders were said to have been pushing for at least 170p a share, with some optimistic souls in the City hoping for nearer 200p.
So a 161.3p offer valuing HRG at £1.3bn – a 63% premium to the 100p the group was trading at on 4 January – seems like a fair compromise. But dig deeper and that premium shrinks significantly. Indeed, Rogers claims in reality Sainsbury's would bag Argos for £250m. A return to Home Retail shareholders of £200m from the proceeds of the Homebase sale to Australian outfit Wesfarmers puts the real value on the remaining assets at £1.1bn – which Sainsbury's is offering to buy with a mixture of cash and shares. And once you factor in the £600m worth of loans Argos is owed by customers of its financial services offering that will become a part of Sainsbury's bank and the £250m cash on the Home Retail balance sheet, the transaction begins to look a lot more attractive for Sainsbury's.
Broker Investec says the offer is not a "knock-out" for Home Retail, but points out the £120m (at least) a year of savings Sainsbury's can find by closing a chunk of Argos stores when leases expire and creating more concessions in its supermarkets couldn't be achieved with another buyer or alone.
Aside from the financials, Coupe is adamant the tie-up would be good news for British consumers, allowing them to shop "whenever and wherever" they want. "Our customers want us to offer more choice and for that choice to be faster than ever, driven by the rise of mobile phone and digital technology," he adds. "It will enhance both businesses in the way customers respond."
Sainsbury's will also be able to push its non-food offering of clothing, homeware and seasonal and leisure ranges through the existing Argos network, as well as widening its range of electronics, appliances and toys and increasing its buying power. Coupe even thinks there is room to use the acquired distribution for some grocery products such as nappies, though he was vague on further details.
But it is the ability to deliver customer orders to any of Sainsbury's convenience store network within four hours – a feat even Amazon can't compete with – that has Coupe the most excited. "We think that is pretty neat," he says.
However, some analysts remain unconvinced. David McCarthy of HSBC says: "We believe there is more risk and uncertainty around this bid than management admits. We are unconvinced an Argos in several hundred Sainsbury stores will be a winner, that sales synergies will come through as hoped or that the overlap between the different customer base is as high as the company suggests when we only consider core customers."
It will cost Sainsbury's £140m over the next three years to refit Argos concessions into its stores and the challenge of closing and integrating hundreds of new outlets into supermarkets on the hope the customers will migrate with them is no small feat. And then there is the trading performance to think about, with like-for-like sales at Argos sliding 2.2% in the 18 weeks to 2 January.
A deal is still far from certain, with three weeks of due diligence now underway before a new takeover deadline of 23 February. And the fact that Home Retail shares are trading more or less flat today at 153.4p – a discount to the offer price – suggest risks remain.
The board of Home Retail says even though it was recommending the offer to shareholders it "continues to believe in the prospects for the standalone company". Once shareholders weigh up the bid, they may decide that they agree.