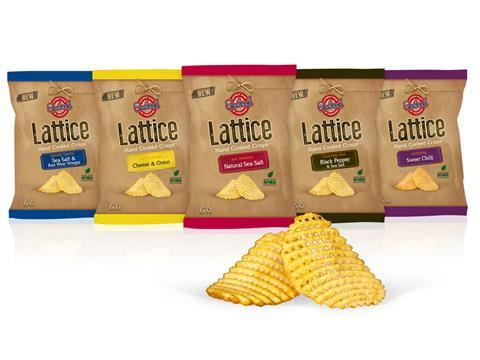 Seabrook Crisps is eyeing potential bolt-on acquisitions as it seeks to broaden its portfolio and expand into new snacking categories.
CEO Jonathan Bye confirmed that the Yorkshire crisp manufacturer had the appetite to buy rival brands today following news that a £35m management buyout had been completed, backed by private equity firm LDC.
Bye said Seabrook had sought external investment to fund ambitious growth plans after three years executing a successful turnaround plan.
"We want to be a full national brand and we want a breadth of portfolio in crisps and snacks," he told The Grocer. "By definition there are plenty of other crisp and snack areas we are not in at the moment. We've been doing a lot of research and we have validation from the consumer that the brand will stretch beyond the current portfolio into other related areas to crisps.
"Some products we will be able to make ourselves, some we might be able to buy kit to make or the alternative is to buy other businesses."
LDC, which took a majority stake in Seabrook as part of the transaction, said it had identified a number of potential acquisition targets to "further enhance the customer offering".
Seabrook's bigger rivals, such as Walkers, Mondelez and United Biscuits, have all rolled out similar products outside of the traditional potato snacking category in recent months. Walkers expanded its Sensations sub-brand into the burgeoning savoury snacking biscuit category, with the launch of 100g bags of 'Crispy Thins' baked crackers in June. It followed similar launches for Ritz Crisp & Thin from Mondelez and Jacob's Cracker Crisps from United Biscuits.
Earlier this year it was revealed that take-home sales of crisps were overtaken by non-potato snacks, such as savoury biscuits, for the first time [Kantar Worldpanel 52 w/e 1 February 2015].
Ged Gould, a director at LDC and part of the team leading the deal process, added that Seabrook was traditionally strong in crinkle cut crisps and had recently expanded with the successful introduction of the lattice range but admitted there was room for growth.
"We are looking to expand, probably by buying a brand in adjacent snacking area, which could cover a whole different kind of product," said Gould, who will also join the Seabrook board.
LDC has also pledged to invest in the Seabrook factory in Bradford to boost capacity, increase efficiency and potentially to introduce new products, as well as progressing international sales opportunities.
The Grocer broke the news that LDC was set to finalise a deal to take a majority stake in Seabrook on Thursday last week. The MBO, led by Bye, also included marketing director Kevin Butterworth, chief operating officer Daniel Woodwards and commercial director Jon Wood. The transaction sees a complete exit by owner Ken Brook-Chrispin, who led a buyout of other family shareholders in 2006.
Established in 1945, Seabrook had previously been in family hands for the entirety of its 70-year history.