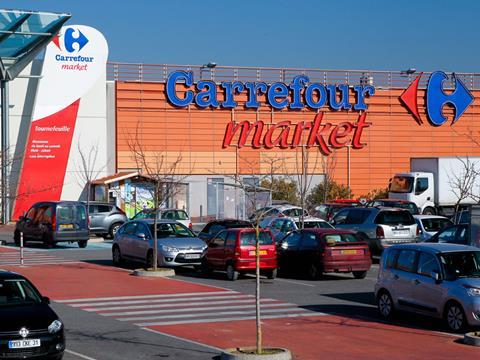 Suppliers desperately seeking to shore up their CO2 reserves may have been instead reaching for the oxygen tanks to help them breathe in the wake of the surprise news that Tesco and Carrefour are planning a long-term strategic alliance
The three-year alliance will cover the strategic relationship with global suppliers, the joint purchasing of own brand products and goods not for resale.

The retailers said the motivation was to improve the quality and choice of products they sell - and of course to make them available "at even lower prices".

Tesco and Carrefour were keen to point out they will continue to work independently with suppliers at a local and national level while emphasising the "significant opportunities" for suppliers.

The retailers said the alliance would be formally agreed within the next two months.

Manufacturers could be forgiven for not greeting this news with enthusiasm, particularly those already worried about the Sainsbury's-Asda merger.

Many commentators believe the deal means they are in for a further squeeze. "For private label suppliers the number of retail buying points is shrinking every year, with the remaining players just getting bigger," says Richard Harrow, a partner at private label consultancy IPLC-Europe. "What do you do when one customer who maybe accounts for 30% or 40% of your business wants lower prices? Contract losses on scales like this means factory closures or companies going out of business. I am sure there will be winners on the supply side, but balanced by losers."

One UK-based own label supplier agrees the deal could prove a headache for companies like his, but that there could also be a big impact on global suppliers as well.

"You cannot combine a lot of the own label business that Tesco and Carrefour have. There are so many differences in product quality, packaging, price etc, between the UK and Europe that a one-size-fits-all doesn't work for own brand," he argues.

"That is what Walmart found when it took over Asda. It thought it could come in and merge own brand suppliers, but that didn't work out and I can't see this being any different."

"Tesco have nowhere else to go if they want to be as big as their major suppliers. The big suppliers have all got multinational businesses and the only answer Tesco have to match them in size and power is to combine buying with other retailers," he adds.

So, can Tesco and Carrefour make a success of this alliance where others have failed?

The move marks the first international venture of this kind involving a major UK supermarket chain, but comes hot on the heels of last week's announcement by France's Auchan Retail, Casino Group and Schiever Group, who plan to combine forces with Germany's Metro to strengthen their buying power.
Do alliances work?
The fact this kind of international deal is now in vogue suggests retailers are not fully realising the benefits of membership of wider international buying alliances.

Earlier this year, Asda withdrew its membership of European buying group EMD after under two years, leaving Morrisons as the only major UK supermarket still part of such a group. It is part of Amsterdam-based AMS, along with Ahold Delhaize, Musgrave, ICA and - intriguingly - Booker.

When it left EMD, Asda said it would prefer to deal with suppliers directly. Sentinel Management Consultants CEO David Sables would have approved. He labels these buying groups as "irritants".

However, he believes the Tesco-Carrefour deal could prove positive for many suppliers and is not something to fear. "For the big guys, like the top 100 Mike Coupe talks about regarding the Sainsbury's-Asda deal, if you supply both retailers and are doing high volumes in full trunkers, there is no reason to drop your prices," he says. "There will be a bigger threat that you could be delisted or have your range reduced but that would suggest the previous decision by both buyers that your products had shopper appeal were wrong, which they obviously weren't."

Sables says some major suppliers may reduce prices by 1% or 2%, which would still be a win for the retailers, but in terms of own label and fresh suppliers there were genuine opportunities for growth.
How they compare
Tesco
Group sales: £51.0bn
Operating profit: £1.6bn
Countries: 10
Number of stores: 6,800
Carrefour
Group sales: £77.9bn
Operating profit: £1.8bn
Countries: 30
Number of stores: 12,300
He also sees the deal working well alongside Tesco's 'sourcing reset' whereby, having decided on the ranging it wants, it is now looking to work with fewer suppliers to provide it. For suppliers who remain, Sables suggests Tesco has become better to deal with and so they could receive a boost if they then get to work with both retailers.

He suggests Carrefour could learn from Tesco to become more strategic in developing longer-term business plans with suppliers rather than what he calls its current "attritional" approach to supplier relations.

"There is no one better at using data to plan growth than Tesco, so if it can bring Carrefour along that could be good news for suppliers."

In recent UK grocery history, buying partnerships between major retailers and wholesalers have invariably failed to deliver on lowering prices and driving down costs, while the opportunities for suppliers also largely failed to materialise.

The Co-op and Spar tried to develop a buying partnership in 2006 focusing on commodity and own label lines. However, it was shelved within a couple of years. Waitrose and Booths tried something similar in 2008 but again it failed to deliver.

When Costcutter and P&H scrapped their BuyCo before the eventual collapse of P&H last year, they suggested the model had proved difficult to run and had added complexity and confusion for suppliers rather than achieving the simplicity they were after.

How Tesco and Carrefour can avoid a similar fate remains to be seen, particularly given the massive global scale of both retailers and the array of different brands they operate in around the world.

However, Sables believes Tesco can make it work. "After the Booker deal, this looks like another smart move from Tesco," he says. "It could just nose it ahead of Sainsbury's and Asda."