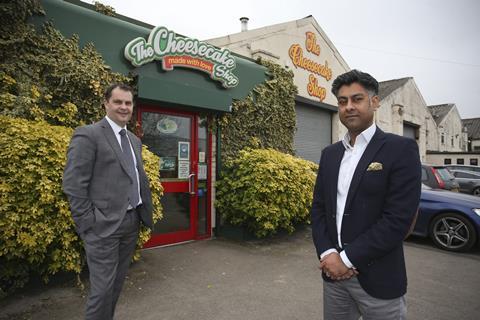 Midlands bakery chain The Cheesecake Shop is set to rebrand after undergoing a management buyout.
The buyout, led by Neil Blakeman and Dillan Shikotra, includes eight retail stores across the region, as well as the bakery in Nottingham.
Following the deal, the new owners plan to rebrand the business and change the name of the shops to The Cake Solution to reflect its wider range of cheesecakes, mud cakes, tortes and desserts.
Starting life in Australia in the early 1990s, The Cheesecake Shop was brought to the UK by its founders in 1998 before selling to a Chinese investment firm in 2016.
Blakeman joined the business as general manager in 2018 while Shikotra ran a franchise store in Leicester.
Shikotra said: "The Cheesecake Shop name can often be confusing as customers naturally think we only sell cheesecakes, but we sell sponge cakes, mud cakes and desserts, as well as a wide range of birthday and custom-made cakes.
"We wanted a name that made it easier for new customers to enter our store and learn more."
The rebrand will include new external and internal signage bearing the new company name, a new strapline ('for every occasion'), new seating, upgraded interiors with digital displays on the back wall.
Its range of cakes will also be widened to include new flavours, a vegan cheesecake and celebration options.
Blakeman added: "Passion and pride are one of our core values, so we are enhancing the look and feel of our stores to be more in line with the quality of the products we sell and providing our consumers with a more enjoyable experience."
The business' shops across Birmingham, Leicester, Nottingham and other areas of the Midlands have remained open during lockdown providing a takeaway service.
"Naturally, sales have been challenging during lockdown, but we find ourselves in a fortunate position to be able to invest in our business, setting us up for growth," Shikotra said.
The new owners plan to grow the business through franchising and, following the rebrand, will actively seek to open more stores across the UK.