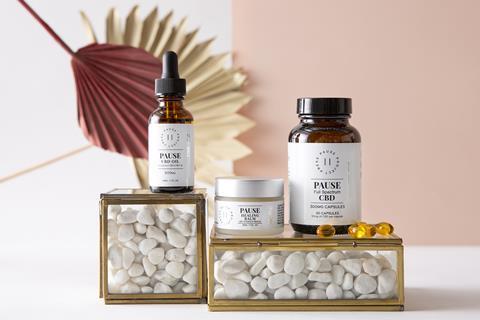 A UK-based global CBD brand has launched today with the acquisition of a US direct-to-consumer operator and the promise of more acquisitions to come.
Tenacious Labs will be a "buy-and-build" vehicle in the cannabinoid products space and has launched with the acquisition of Denver-based CBD brand Press Pause in a cash-and-shares deal.
Tenacious said is harbours "ambitions to become the leading consumer-centric cannabinoid group in the world" and promised further acquisitions in the space in the "coming days".
Initially focussed on the US and UK markets, it will launch in the UK with two new brands – Walker & Morland, a CBD brand created to help those who suffer from chronic pain and anxiety; and Hoo Raa, a CBD brand designed to help manage mood.
Tenacious Labs is led by co-founders Nicholas Morland, a chartered accountant with significant experience in private equity and will work as CEO, and Adrian Clarke, who will serve as chief commercial officer and has worked extensively in the international spirits and premium discretionary spend sectors.
The new group said its acquisition of established direct-to-consumer brand Press Pause is a "major milestone" in its strategy. Co-founded in 2018 by Dawn Fable, Press Pause creates premium CBD products for women's wellbeing, including CBD balms, bath bombs, tinctures and full-spectrum CBD capsules.
Fable has joined Tenacious Labs as 'Head of Pause Lifestyle Brands' to drive international growth.
Morland commented: "Our first acquisition, this is a major milestone in our strategy of building and developing a global portfolio of consumer cannabinoid brands. It brings an established US brand to the UK as the market enters its next phase of growth and consolidation.
"Tenacious Labs is incredibly ambitious and we are working hard to identify and integrate exciting and emerging brands within the sector. We have a pipeline of acquisition opportunities ahead of us, and expect to announce further developments in the near future."
Clarke added: "This is a really important step in our strategy to become one of the world's leading cannabinoid businesses operating an unrivalled portfolio of international brands.
"As consumer attitudes to cannabinoids change, we see enormous potential for value creation within the industry. We are calling on UK regulators to unite the industry's stakeholders and build a transparent framework that not only protects consumers, but also allows the industry to flourish for years to come."
Fable commented: "We have seen significant growth in the US CBD market over recent years and were attracted by Tenacious Labs' ambitions on both sides of the Atlantic. With Tenacious Labs' funding, industry understanding and clear growth strategy, it was clear there was no better partner to help us realise Press Pause's full potential."