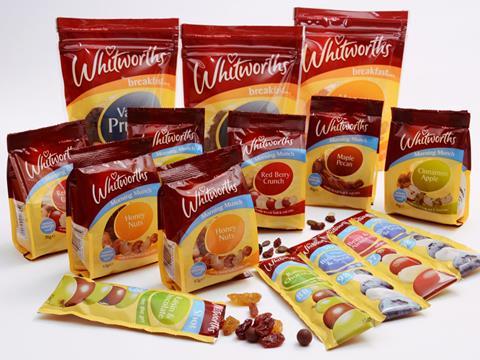 Dried fruit and nuts brand Whitworth has been acquired by Turkish wholesaler Anatolia for an undisclosed sum, providing private equity owner Equistone with an exit.
The deal provides the platform for long-term growth at the troubled Whitworths brand, leveraging the capability of the UK supplier with the sourcing and packing capability of Anatolia on Turkish grown product, a statement said.
The merger between Anatolia and Whitworths, which creates one of Europe's largest dried fruit, nut and seeds businesses, is the final step in a trading relationship dating back 38 years.
"The new business will create the opportunity to invest in the growth of the Whitworths brand both in the UK and internationally, as well as investing in the appropriate packing facilities to meet the long-term needs of our key retail customers and their brands," the statement added.
The current Whitworths management, led by Mark Fairweather, will continue to lead the UK business.
"This is an exciting opportunity for Whitworths and one that will bring long-term benefits to our consumers, customers and suppliers and we look forward to sharing the plans on the next stage of this journey," the statement said.
Whitworths was advised on the transaction by Houlihan Lokey.
Trading at Whitworths has slowed in the past year as the business suffered delistings of some of its brands across the supermarkets.
The group has not filed accounts at Companies House for 2015/16 and extended its accounting period in January from 2 May to 31 October 2016. Revenues in the year to 2 may 2015 nudged up about £500k to £157.8m, with adjusted EBITDA of £11m and operating profits of £7.4m. However, sources familiar with the business said EBITDA had fallen significantly amidst challenging conditions. Problems at the business arose following disruption caused by a new IT system.
The Anatolia statement does not provide full details of the deal, but The Grocer reported last month that Equistone was not likely to see a return on any sale of Whitsworths given the level of indebtedness at the group. Total borrowing at Whitworths stood at £98m in the year to 2 May 2015, including bank loans of £42.5m. A sale is not expected to cover the amount owed to the banks, which meant Equistone was unlikely to see any return on its investment, which stood at between £40m and £50m.