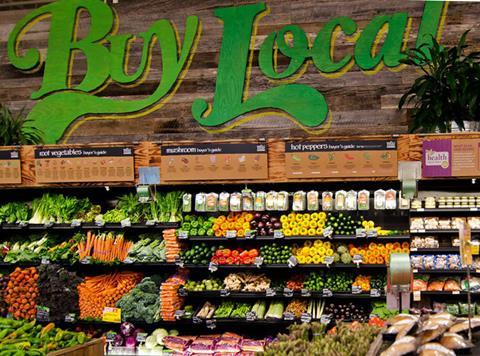 Just when it looked like grocery could enjoy a quiet end to the week, Amazon rocked the market by making a shock bid for Whole Foods Market. The deal ends months of speculation over a potential buyer for the organic grocer, which has suffered six consecutive quarters of dwindling sales. Gaining such a large partner – with an equally large amount of resources and cash – seems a sensible move for Whole Foods. As analyst Neil Saunders of Conlumino puts it, Amazon could prove a "white knight" riding to the rescue of the high-end grocer, which has recently struggled to compete with the growing organic offerings at less costly rivals. But what could a beleaguered grocery chain with long-term debt and falling profits offer Amazon?
The answer is more than you think. Amazon has been keen to enter the bricks-and-mortar grocery space for a while now, having opened two click & collect sites in Seattle and begun testing its cashless store Amazon Go. The acquisition of Whole Foods helps it gain a far greater physical presence – 465 stores, to be precise – in one fell swoop. Fraser McKevitt, head of retail and consumer insight at Kantar Worldpanel, says the deal is "in some ways a tacit admission from Amazon that food retail is incredibly difficult as a purely online player".
"Amazon is committed to cracking the grocery market, and a business like Whole Foods brings with it many of the crucial ingredients the e-commerce giant has been missing in its other forays into food and drink," he argues. "The power of a physical presence on the high street to grow a brand's reputation and credibility is particularly important in grocery, where consumers want to be able to see the quality of the items they're buying first-hand."
As Conlumino's Saunders says, the Whole Foods network could also act as a boost to Amazon orders. "It provides Amazon with a well-balanced and nicely distributed physical presence that allows it to offer click-and-collect and other services which are linked to the rest of its business," he points out.
The online element of Whole Foods offers plenty of opportunity, too. Currently, Whole Foods uses third-party grocery delivery service Instacart to fulfil its online orders in the US. Through this deal, Amazon can deal a blow to Instacart – whose two-hour delivery capabilities pose a threat to Amazon Prime Now and AmazonFresh – and potentially build up a larger share of the online grocery market.
The implications may seem minimal for the UK, where Whole Foods has only nine stores. But there is a good reason why the announcement has caused supermarket shares to plunge on both sides of the Atlantic. Amazon has made clear its ambitions to increase its share of the UK grocery sector, and the acquisition of Whole Foods will represent its first bricks-and-mortar presence here (potentially paving the way for more stores). Plus, the limited online presence of Whole Foods in the UK – courier service Quiqup operates a service within the catchment area of its seven London stores – means there is ample opportunity to grow. As IGD says, it could "potentially lead to creative solutions around delivering Whole Foods' food-to-go offer within the online environment".
Prepare yourself for plenty more shocks to come.