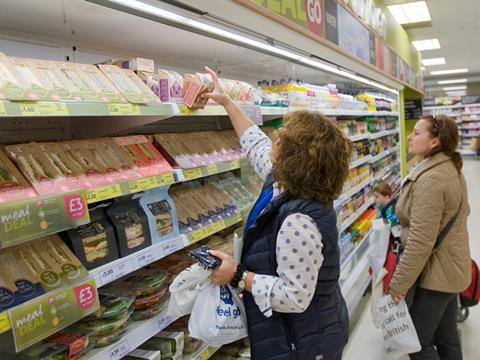 Samworth's swoop for the 2 Sisters Manton Wood sandwich business seemed straightforward enough, but not it seems for the Competition & Markets Authority.

Late last week it launched a Phase 1 investigation into Samworth's acquisition of the 2 Sisters sandwich arm to determine if the deal could result in a "substantial lessening of competition".

One source with knowledge of the deal calls the CMA's move "fairly bizarre" given the acquisition primarily affects one customer, consolidating Tesco's own label sandwich range under Samworth. Tesco, industry sources note, is unlikely to need the protection of the CMA from suppliers any time soon.

"If the CMA really thinks Tesco - and other retailers - are going to be bullied into putting their prices up, I don't know who they're kidding," comments one.

"The reality is that this acquisition would not occur without Tesco's full backing," says Peel Hunt analyst Charles Hall. Another dealmaker argues Tesco is likely to have been the driving force behind the deal in the first place, commenting: "2 Sisters is selling the business because it's been told by Tesco to sell the business."
"This acquisition would not occur without Tesco's full backing"

Few, then, expect the CMA to block the deal, but the competition body's thinking can be unpredictable and the terms of any investigation are not yet clear. If the CMA considers the wider sandwich market - including high street players like Pret a Manger, Starbucks and Costa - it is difficult to see any competition obstacles.

But the deal would mark a notable consolidation in the retail sandwich market, in which Greencore (which curiously has a sandwich plant on the same business park) already has a share of about 60%. Consolidating Tesco's food to go offer under Samworth shifts the market towards a duopoly.

This might not concern retailers, but the CMA could place more weight on the effect on the supply chains into these sandwich manufacturers rather than consumers.

Manton Wood remains under 2 Sisters control during the CMA process, and a competition objection could scupper the deal. Such an event would present 2 Sisters with a problem, given it needs to sell assets to refinance and restructure the business, with few other obvious suitors in the concentrated retail sandwich market.
2 Sisters, which last week posted a huge pre-tax loss of £53.8m in its fourth quarter, faces a ticking clock, with £250m in loan notes needing to be refinanced in July 2019.

This year's sale of its Goodfella's pizza brand to Nomad, its red meat business to Kepak and now Manton Wood raises about £370m, but a failure of the latter could "cause some pressure" given profitability issues in its chicken operations, according to Moody's analyst Paolo Leschiutta.

The deal would be a triple win, securing an important part of the Samworth business and providing simplicity and a trustworthy partner for Tesco.

Wider consolidation

With fellow fresh prepared foods players Bakkavor and Greencore also keen to grow through acquisitions, observers note that far from fearing consolidation among suppliers, it benefits the supermarkets too.

"Supermarkets don't want lots of small players, they need to constantly audit in areas that are potentially dangerous in terms of food safety," says one.

"Consolidation means everybody wins," adds another. "The manufacturers get more business, the retailers get cheaper prices and the customers benefit from those prices."

Despite the structural growth in food to go over recent years, it remains a tough market given fierce retail competition, rising wages and the falling pound resulting in mounting costs.

"There is not much volume growth while price inflation over the course of the last year has largely played into the hands of the retailers," Peel Hunt's Hall adds.

A dealmaking source says: "Life is incredibly tough for the chilled convenience players and the only solution to that is more consolidation - it's not only inevitable, but desirable."

Greencore is looking for expansion opportunities after pulling the plug on its US business. Its stateside ambitions hit the buffers following its 2006 acquisition of Peacock Foods.
Other businesses on the 2 Sisters block
News emerged in February that 2 Sisters was looking to offload Irish fish brand Donegal Catch for £50m. No deal has yet been struck.
Reports have also suggested 2 Sisters Food is weighing up a disposal of Holland's Pies.
2 Sisters-owned Fox's Biscuits was understood to be close to a merger with Burton's Biscuits that would have seen the enlarged company spun off and floated this year, but financing for the deal fell through at a late stage.
Market rumours suggest 2 Sisters may also sell the frozen pastry and frozen vegetable assets of its Green Isle business that were not included in the Goodfella's sale to Nomad.
Although the group is giving most of the proceeds of its US arm's sale back to shareholders, Greencore has pledged to be an "active consolidator" in the food to go space. The question for Greencore is how to expand without falling foul of the CMA, given its core sandwich business is already so dominant.

City dealmakers suggest Greencore may have to satisfy itself with smaller bolt-on acquisitions in areas where it has a presence but less dominance, such as ready meals, sushi and soups.

Bakkavor is also on the acquisition trail after its IPO earlier this year to reinvigorate its flagging share price. This year it bought desserts manufacturer Haydens from Real Good Food.

The business will be carefully monitoring the CMA's Manton Wood probe. Given it has a dominant position in a number of fresh prepared food areas, an aggressive CMA could hamper its own ambitions in the sector.

Notably one area Bakkavor remains light in is sandwiches, with some suggesting a tie-up with Greencore could be complementary.

City sources have poured cold water on the notion, however, noting Bakkavor's desire to remain family controlled despite its IPO. Its leverage leaves little prospect for such a large-scale move.

An asset that could eventually be of interest to Bakkavor is sandwich maker Adelie, which private equity player Intermediate Capital Group has restructured since acquiring in 2016 and "could be back on the market in the next 12 months", claims one source.

Whatever the eventual buyout options, commentators insist consolidation in the sector is overdue. The question is whether the CMA agrees.