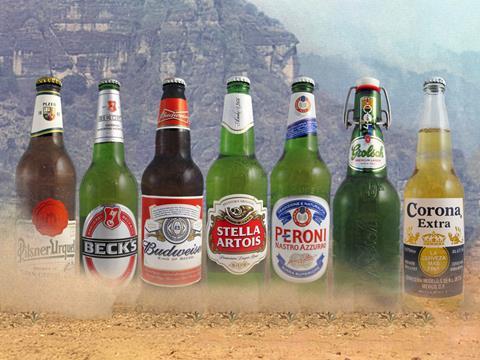 When the top player in any industry looks to take out its nearest rival, regulatory alarm bells inevitably start to ring. At the time of writing the world's largest beer producer AB InBev, with about 21% global market share, is poised to make a firm offer worth c$90bn for the second-largest, SAB Miller, which has around 10% market share.

If the food & drinks industry's largest-ever deal is successful, the global brewing behemoth would be more than three and a half times the size of nearest rival Heineken - meaning the sell-off of chunks of the combined business looks inevitable.

So which brands will it be forced to shed in the UK? The picture doesn't look quite that clear-cut. A merged 'megabrew' will indeed be the case in the premium lager market - with seven bottled brands sitting in the same stable (SAB's Peroni and Pilsner Urquell; Grolsch under a joint venture; and AB InBev's Stella, Budweiser, Corona and Beck's. However, analysts predict competition authorities are likely to be comfortable.

Nielsen data illustrates why. SAB Miller might be a big London-based FTSE 100 player, but its material presence in UK beer remains relatively small.

SABMiller has just a 5% market share in UK beer overall and a smaller still (4%) share of the off-trade, as just one of its brands is in the top 10 lager brands - Peroni in eighth place [Nielsen, 52 w/e 25 April].

Although Peroni is one of the few beers in off-trade growth (+4.8% year-on-year) it has less than a fifth of AB InBev's market-leading Stella at £558.8m.

Nevertheless, a combined 'megabrew' would still be likely to become the UK's largest player above Heineken at 20% of the entire beer market. If there is a competition issue relating to overlap in the UK, it is in that premium off-trade lager category rather than the pub trade - especially given AB InBev's leading 28% share with Budweiser and Beck's also in the top seven selling brands across the lager category.

"Bragging rights aside, the incremental market share gain ABI would accrue from buying SABMiller is not enough to have a meaningful impact on the dynamics of the UK beer market or attract the attention of the UK competition authorities," says Jonathan Fyfe, analyst at Mirabaud.

But David Went, barrister at Exchange Chambers, says the deal will be "very carefully" examined on a nation-by-nation basis by the European Commission to monitor whether the merger combined particularly close brands.
The UK's CMA has been busy in the grocery sector over the past year – scrutinising in depth Poundland's takeover of 99p Stores, Muller's acquisition of Dairy Crest's milk business and Pork Farms acquisition of Kerry Foods' pastry business.However, the CMA is unlikely to weigh in directly on this deal as larger multinational deals typically go to the EU and it and it is then rare for domestic authorities to ask to open their own investigation once without special circumstances.

There is a precedent for UK regulatory intervention in the sector - when Interbrew was forced to divest Bass as part of its 2000 takeover of Bass Breweries given the-then emerging duopoly with S&N. But the UK regulatory green flag that the Anheuser-Busch and InBev deal received in 2008 looks distinctly more likely.

The supermarkets might be wary of any such scenario, given the increased negotiating power taking a third of the off-trade would give AB InBev.

Could stores and rivals benefit?

But Shore Capital analyst Phil Carroll said supermarkets may be net beneficiaries from the merger. "If you put them together it becomes more efficient to supply the off-trade under one roof," he says. "It will probably make it easier for the supermarkets as they are dealing with one company instead of two."

"The supermarkets need Stella and Peroni and a big supplier will naturally want more discounts," says one M&A specialist with experience in the drinks sector. "But if the supermarkets play it the right way they should be able to reduce costs by working with one big supplier. "

One senior supermarket drinks buyer notes the merger could even play into the hands of AB InBev's rivals given the sheer scale and complexity of the merger and integration. Carlsberg has lost its Tesco listings, but the merger "may end up being good for Carlsberg as four becomes three". Rivals could also pick up valuable global brands AB InBev is forced to divest and the merged company may invest and support fewer brands.

"ABI is already a behemoth in terms of their brands and adding to that may cause them problems in how they prioritise their portfolio," says another leading buyer. "We've already seen Becks dropped as they focus on Corona."
The major impact in the UK could end up being the wider effect on UK PLC. Rumours already abound that AB InBev could use SABMiller to shift its corporate HQ to the more tax-friendly UK, but conversely ABInBev's reputation for aggressively curtailing costs could hit job at SAB's Woking headquarters.
Wragge Lawrence & Co competition partner Bernardine Adkins suspects AB InBev will lose little sleep over forced European divestments. "They may just be thinking 'let's go over the top and worry about Europe later'," she says. "If they're forced to sell off a few brands around the edges they probably won't mind too much as their real focus is elsewhere."

The major regulatory issues are in China and the US - with SAB Miller inevitably having to sell off its stake in US jv Molson Coors and potentially its China Resources Enterprise jv.

But surprisingly for a deal this scale, the regulatory issues don't look unsurmountable - and that is precisely the attraction for AB InBev. Generally speaking, SAB Miller has industry-leading strength in areas where AB InBev remains weak - notably most African markets and South American countries like Colombia and Peru.

Global beer companies are among the few international fmcg giants to make their cross-border scale work, and developing markets, such as those dominated by SAB Miller, are increasingly important to long-term growth as Western drinkers move away from big brands towards more local ly sourced craft brews.

Carroll adds: "To generate growth AB InBev has got to the point where organically it is slowing down, so to generate growth any acquisition target has to be very large."
SAB Miller's board and dominant shareholders Altria and the Santo Domingo family may still play hardball over the price, but a lot of smart money is now on this deal getting done. "When you look at the deal, on the face of it you think 'how can this possibly happen', but looking at how complementary the geographical footprints are is quite startling," says one M&A source. "Once AB InBev put their mind to something, they tend to make it happen."
Group % value share of total UK beer market
On Trade
Off Trade
Total
AB InBev
11%
28%
15%
SABMiller
6%
4%
5%
Source: On trade data CGA Brand Index, off trade data Nielsen Scantrack