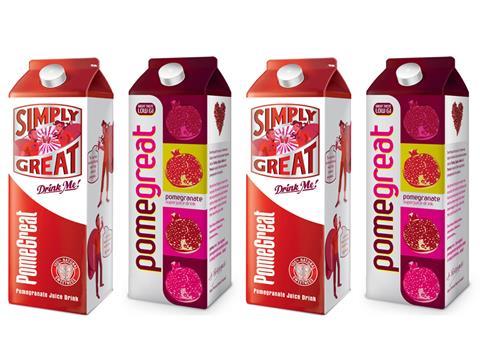 Wonderful Brands has purchased the assets of the Simply Great Juice Company from administration.
The Simply Great Juice Company, which has been promoted by Olympic cyclist Victoria Pendleton, is primarily know for producing pomegranate juice under the Pomegreat brand.
Wonderful Brands, which produces "100% pure" pomegranate juice under its POM Wonderful label, said that Pomegreat is currently "the leading pomegranate juice drink brand in the United Kingdom".
Dominic Engels, Wonderful Brands' MD said: "The Pomegreat brand serves a complementary consumer to our own 100% pure pomegranate juice brand.
"We believe that by continuing to operate both brands together we can more effectively reach pomegranate juice lovers in the UK and beyond resulting in even broader category excitement."
No financial details of the transaction were disclosed.
It is not currently known whether the purchase of Simply Great Juice's assets protects the jobs of staff at the company.
Late last year Pomegreat CEO Adam Pritchard admitted the company got it "spectacularly" wrong after a revamp of the juice brand cost the business millions of pounds in lost sales.

Pritchard returned the brand to its "core values" in November 2014 with another packaging change, confessing a design rolled out in 2013 had been "disastrous". Superhero brand mascots had been added to packs to attract younger consumers, but alienated many of the brand's core 35+ demographic.
"What we did spectacularly successfully was turn our premium adult soft drink brand into a children's brand overnight and we lost a whole heap of our consumers," he said.