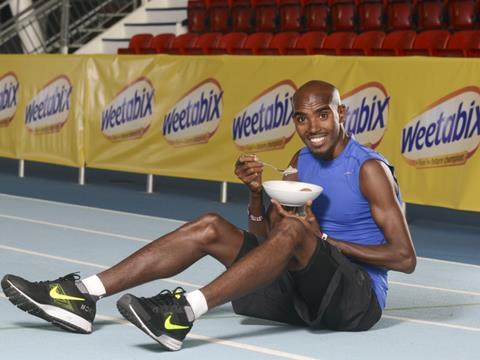 Olympic gold medallist Mo Farah is fronting a major new marketing push for Weetabix.

Farah is the face of the brand's new Ultimate Sports Day push, which will feature on seven million packs of the cereal rolling out to stores from the end of this month.

Weetabix is also sending out educational packs to every UK primary school as it encourages kids to design the ultimate obstacle for a sports day obstacle race.

The top prize is a school trip to the Ultimate Sports Day, which will be held at the Queen Elizabeth Olympic Park in London and will give kids the chance to compete with Farah.

Speaking to The Grocer as he filmed a Weetabix TV ad to air from next month, Farah said he ate Weetabix as a child, and was reintroduced to it by his oldest daughter.

"Breakfast is the most important meal, and I eat a lot of Weetabix now," he said, adding he hoped the sports day campaign would inspire children to become more active.

Farah also said he wouldn't be running in any parents' races at his daughters' school sports days: "I would have a bit of an advantage."

Back in training for the London Marathon, Farah said he had fully recovered after collapsing during the New York half-marathon this week.

Weetabix marketing manager Francesca Davies said the campaign was designed to highlight the importance of breakfast and of being active, adding that she hoped the activity would drive cereal category growth.

Farah also fronts a campaign for Quorn designed to tap into interest in high-protein diets.