Morrisons has a new mantra - it is positioning itself as a 'foodmaker and shopkeeper'. Not only does this tie in neatly with its recently announced wholesale agreement with Amazon, it is reflected in the retailer's one and only supermarket opening planned for this year.

The first thing you notice about the new store is the branding. Morrisons is continuing to roll out its new look logo, using what it says is a new "friendly" font incorporating the 'i' in Morrisons into a tree design with golden leaves.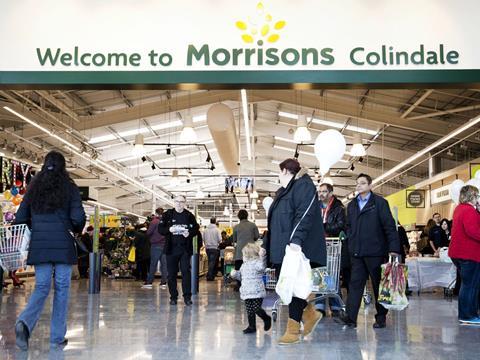 Group retail director Gary Mills says the new logo, featuring sprouting gold leaves, is still on trial, with a decision whether to roll it out further to be taken at the end of the current quarter. "Feedback from customers has been very positive so far," he adds.

The store is built above the car park, and accessed via a long travelator. Once inside you immediately start to see what Mills and his boss David Potts are aiming for. Straight in front, the value proposition is highly visible with eight bays of key promotional stock.

On the right is the food to go section. There is the obligatory £3 meal deal, but also sandwiches being made to order, hot food including rotisserie chicken and loose pies, an old-school Morrisons feature ditched by the previous management. Mills describes this as a one-stop food to go shop with its own self-service tills alongside the manned tobacco and lottery kiosk. This shop within a shop format is set to be rolled out to other stores where the passing trade is high enough. Mills estimates 30% of the footfall at Colindale will be passing trade. (A large chilled beer and wine section at the back of the store also points to a blurring of the lines between where shoppers now go for convenience, which is happening across retail, says Mills).

On the opposite side of the entrance is another innovation. Huge inflatable Stormtroopers and superheroes signpost the Party Zone - where partgoers can buy balloons, decorations, cards, as well as ordering cakes, wine and even getting their flowers wrapped. Morrisons is set to add a second Party zone in its Tynemouth store in the Northeast in the next two weeks and will use the learnings from the two stores to decide whether to roll the concept out further. "It's all about making it easier for shoppers," explains Mills. "You can order your platters and sandwiches here and pick them up here as well. Whereas if you do it in a conventional supermarket you would have to touch on so many different areas of the store."
Next up there is a standalone customer service desk, which is being re-introduced to all stores, again as part of efforts to improve the shopper experience and cut down queues, including at the tobacco kiosk.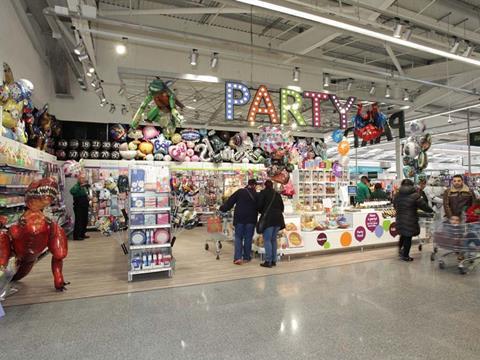 Hefty wooden boats
While the infamous misty veg has been ripped out, it doesn't mean Morrisons is no longer concerned with the look of its fresh produce. Fruit & veg is laid out in hefty wooden 'boats' - which Mills describes as more akin to a farm shop and "less sterile" than previous incarnations. But the value message is reinforced with large shelf-edge signs promoting its Price Crunch initiative.

From the fresh section, shoppers move into Market Street proper and here is probably the clearest example of an attempt to return some of the old Morrisons magic that set it apart in its heyday.

Mills says it's "Market Street with a more modern twist".

Everything about the new-look Market Street is about customer engagement and trying to properly show off its foodmaker credentials. Rather than a straight line of counters down two sides of the store, Morrisons is again employing the shop within a shop model. The deli, cheese counter, butcher and fishmonger have their own 'shop' sunk back from the main supermarket, with a range of prepacked produce next to the serveover counter. The counters are curved and lower than before to allow better views of the staff preparing the food, while all preparation stations have been turned round to face the customers. These include a new pancake grill where bakers prepare a variety of fresh Scotch pancakes right under the eyes and noses of shoppers.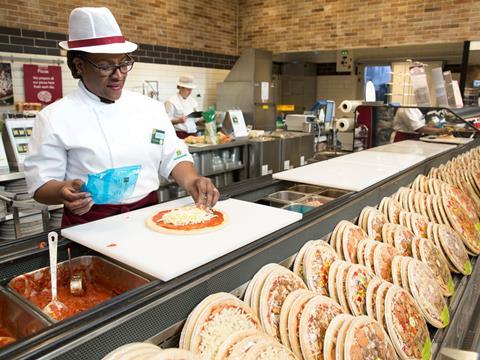 Value is again to the fore in these areas, with promotional bays on the end of the opposing aisles such as the three-for-£10 deals on prepacked meat and fish - which, while Sainsbury's says shoppers no longer want them, are still very popular with families on a budget says Mills.
Chilled aisles have been fitted with chiller doors, a move Mills says has been trialled at a number of stores last year and resulted in an upturn in sales. "You don't get that wind tunnel of cold that you get in some stores and customers feel that because it's behind doors the temperature must be right and so we've sold a little more in the stores where we have doors," he explains.
A dedicated world foods are includes a halal concession run by Shazan Foods and branded chillers from the same supplier point to the work being done by the previous management to tailor the offer depending on demographics. Another area of interest is the frozen section, which again is very distinct from the rest of the store and looks not unlike an upmarket freezer centre. Cabinets around the wall are clearly signposted as to whether they contain meat, fish, veg or potatoes while in the middle are state of the art chest freezers with sliding lids, including one containing around two metres worth of Yorkshire puddings. "These are one of the most sold out products every Saturday in most supermarkets," Mills points out. "If anyone is going to be able to do Yorkshire puddings right, it should be us."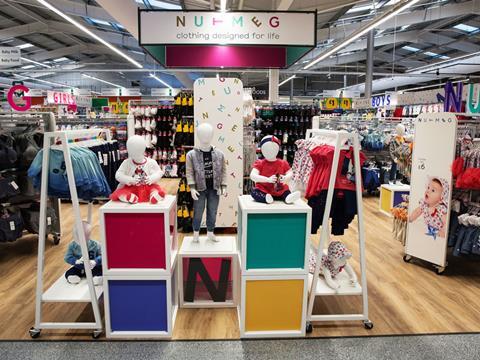 The store also features an extended Nutmeg fashion section, with a wider range of adult as well as kids clothing. And there are more modern self-scan checkouts including belt versions to allow customers to process larger shops.

The Market Street theme is tied together by the instore café - branded Market Street for the first time. While the menu is largely the same as other in-store cafés the look is more artisan and Mills says it is set to refit a further 50 cafés with the new look this year.

Mills acknowledges the challenge the wider rollout of these features brings but believes that by working in a modular way Morrisons can touch the whole estate with improvements quite quickly. At this week's prelims CEO Potts promised that it will look to have completed its Fresh Look store upgrade programme by the end of 2018/19 Mills adds: "We are not going out of our way to be zany or trying to be something we're not. What we are doing is part of our strategy, our heritage but in a more contemporary way and we think customers will respond well to it."