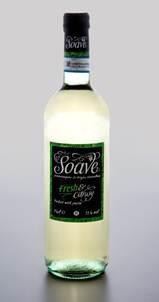 Morrisons is rolling out a new environmentally friendly wine screw cap that it claims will reduce its carbon footprint and makes the bottle easier to recycle.
The retailer is trialling the Green Leaf screw cap, manufactured by Italian firm Enoplastic, on its own-label entry level 'chalk board' Soave sku.
The new seal uses the same technology and materials as a standard screw cap, but contains 64% less aluminium and can be completely removed, making it easier for the bottle to be recycled. It also takes up less space when transported, which the retailer claims will reduce the size of cap shipments to the bottling plant by around 60%.
Morrisons BWS category director Steve Mosey said he was delighted to be the first major supermarket to bring the Green Leaf closure to the UK market. "This new launch is proof of our ambition to drive innovation in the category which our BWS team has worked hard to keep fresh and relevant to our customers. We are proud to take responsibility for our own carbon reduction while keeping prices low."
He added that the bottling process remained the same, so neither the price nor quality would be affected. "Customers will notice no difference between the new product and the Morrisons Soave they know and love," he said.
The closure has been used in Italy, Australia and New Zealand.