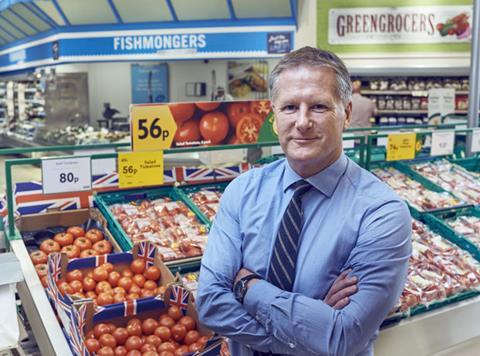 Morrisons' new owners Clayton, Dubilier & Rice (CD&R) have denied a search has begun for a successor to CEO David Potts, after industry sources warned of the dangers of division emerging between the company and the management it inherited after the £7bn takeover.
The Sunday Times reported CD&R had employed headhunters to begin a search for someone to replace Potts, who it said had signalled his intent to step down in two years' time.
However, CD&R has told The Grocer it is "categorically untrue" that it has started to look for a successor to Potts.
"There is no search under way," said a spokesman for CD&R, who stressed there was a "very close" working relationship between Potts and Sir Terry Leahy, who spearheaded CD&R's acquisition last year.
CD&R is adamant that the two former Tesco executives are on the same page in their post-takeover strategy, pointing to a note sent to all Morrisons employees after the takeover in which Sir Terry heaps praise on Potts, who has been widely lauded for his strategy.
Meanwhile, a Morrisons source described The Sunday Times reports CEO Potts intended to step down in two years' time as "well wide of the mark".
The newspaper claimed headhunters from Skill Capital had begun to approach potential candidates towards the end of last year.
Read more:
Morrisons chief operating officer Trevor Strain has long been viewed as the leading candidate to succeed Potts, 64, when he does step down from Morrisons.
In a second article over the weekend, in the Financial Times, Leahy, whose takeover team faces the task of refinancing more than £6bn of short-term borrowing to finance the £10bn acquisition, which many observers have warned will be difficult in the face of soaring bond yields, spoke of CD&R's "pretty unique" ability to bring in "operating executives" like himself who were expert retailers, not just financiers.
One City source told The Grocer: "I see that as the more significant development. If I was Morrisons' leadership team I would not be enormously enamoured with this intervention. I think I might be looking for backing from the board not to hear them talk about how they will come in and run the show."
Shore Capital analyst Clive Black told The Grocer: "Such comments from the leadership are very unhelpful – David Potts is to Morrisons what Dave Lewis was to Tesco. He saved Morrisons. I don't understand why anyone at CD&R would want to risk alienating him."
Leahy's interview with the FT has also sparked concern among experts after he appeared to speak dismissively about the threat of the discounters despite the backdrop of soaring inflation.
Morrisons' recent loss of share comes as it is put under pressure by not just Aldi, but the likes of rivals Tesco and Sainsbury's, in terms of its price competitiveness.
Yet Leahy, who many believe made a huge mistake by underestimating inflation and the discounters when they first emerged during his time at Tesco, told the FT he believed they were "past their peak" and that supermarkets had "learnt how to compete with them".
CD&R stressed its track record of working supportively with owners, citing its takeover of B&M stores, where it worked collaboratively with the Arora brothers.
A source told The Grocer: "Sir Terry's comments about the discounters are not a sign that he is dismissive of their threat. What he was trying to say is that whereas the big four were caught out 10 years ago, lessons have now been learnt and they are better equipped to handle the discounters."
However, Ged Futter, of the Retail Mind said he was "confident" Terry Leahy was wrong.
"I would say that Aldi and Lidl are nowhere near past their peak, they are moving through the gears and are about to accelerate. Morrisons won't be able to keep up, no matter what Terry Leahy does."