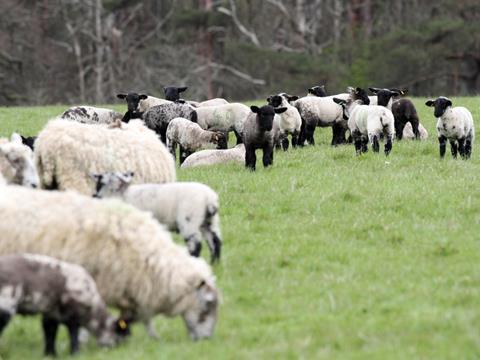 A sustainable lamb-breeding programme devised by Morrisons is to receive a share of funding from the government's £12m Agri-Tech Catalyst agriculture development programme.
The breeding programme, a joint collaboration with The Scottish Rural University, will use CT scanning technology to develop a new selection tool to identify breeding animals with higher eating quality and lower total carcase fat.
Some 5,000 Suffolk-cross lamb loins will be CT-scanned to build up a comprehensive databank on carcase quality as part of the retailer's 'More Taste Less Waste' initiative.
The new estimated breeding value (EBV) tool will provide Morrisons with a measure of the breeding potential of farm animals for a specific trait, said its head of agriculture David Evans.
Lambs with lower total carcase fat are more efficient, according to Morrisons, as they grow faster, eat smaller amounts and produce fewer greenhouse gases, and also require less fat to be trimmed at the abattoir and on the plate.
"The vast majority of lamb farming worldwide involves the crossing of different breeds," said Evans.
"This grant will help us develop an EBV that works in cross-breeding situations. We believe this is a world-first and will be of far more use than existing EBVs based on single breeds."
He added that lamb producers would now be able to select "the best rams" knowing "with confidence" they will produce the sort of lambs Morrisons requires.
'More Taste Less Waste' is one of 15 projects to receive a share of the government's Agri-Tech Catalyst initiative, which also draws on funding from the farming industry.
The retailer is also one of seven partners in another project to develop a system to enable beef farmers to accurately predict the carcase grade and fat score of beef cattle on farms before they are sent for slaughter.