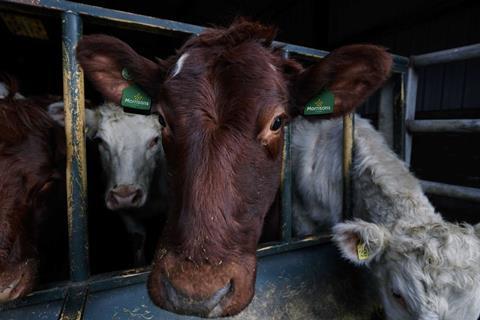 Morrisons has announced ambitious plans for the 3,000 UK farmers and growers that supply its vertically integrated food manufacturing business to achieve net zero carbon status by 2030.
The retailer said the move would see all 20 of its fruit, veg and meat manufacturing sites – which make more than half of the fresh food sold in Morrisons stores – entirely supplied from net zero carbon British sources by the end of the decade.
The commitment would also allow Morrisons to produce affordable net zero carbon food some five years ahead of its main rivals, and 10 years ahead of the NFU's 2040 net zero goal for the entire agriculture sector.
A net zero fresh egg range – the first product to meet Morrisons' criteria – is expected to go on sale next year. Net zero carbon lamb, fruit, vegetables, pork and beef products will then be rolled out in the years to follow.
Morrisons said it was "uniquely placed to reach this goal" due to its status as "British farming's biggest supermarket customer". It cited the fact UK agriculture currently accounted for 10% of all UK greenhouse gas emissions, as a main driver in its accelerated plan.
The supermarket is kicking off the project this month by starting work with a selection of meat and produce farmers to create net zero carbon farm 'models', where they will "look at the emissions picture through the whole lifecycle of farm produce – from germination to leaving the farmgate for a Morrisons store".
Once a workable blueprint has been established, the models will be shared with all Morrisons farmers, "so that all food can be produced in this net zero carbon way", it said.
Areas the farm models will look at include reducing carbon by rearing different animal breeds; using low food-mile feedstuffs and low methane feeds; using renewable energy and low emission housing; and cutting down water and fertiliser use.
Morrisons will also look to offset carbon emissions via planting grassland and clover, restoring peatland, planting trees and seeding hedgerows, and will set up the world's first School of Sustainable Farming at Harper Adams Agricultural University, to offer farming training.
The retailer also plans to work with universities, farming and countryside organisations and carbon experts, and will partner with the NFU to pool farmer knowledge, work with Natural England on planting and water use, and use industry experts to measure and evaluate data.
"Climate change is one of the biggest challenges for our generation and growing food is a key contributor to greenhouse gas emissions," said Morrisons CEO David Potts.
"As British farming's biggest supermarket customer, we're in a unique position to guide our farms and help lead changes in environmental practices. It's years ahead of industry expectations – and an ambitious target – but it's our duty to do it."
Responding to the announcement, environment secretary George Eustice said the commitment was "encouraging" over such an ambitious timetable, while NFU president Minette Batters also applauded the move.
Patrick Holden, CEO of the Sustainable Food Trust, said: "Morrisons has shown real leadership in setting challenging targets for emission reductions and for encouraging their suppliers to produce in more sustainable ways."
The move follows an announcement last week that Morrisons would further bolster its vertically integrated supply chain with the acquisition of Cornish seafood supplier Falfish.