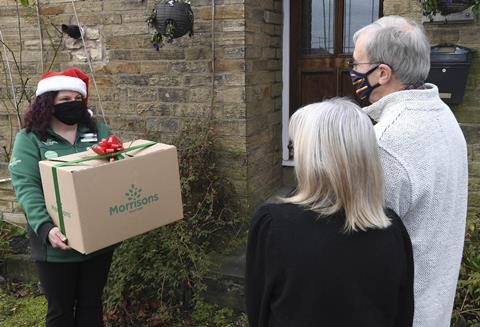 Morrisons has launched a Christmas dinner in a box for under £20 for families unable to make it to be supermarket because of the Covid pandemic.
The supermarket said the offer was aimed at self-isolating customers and other vulnerable groups.
The Christmas Dinner for Two Box, the latest in a raft of box offers Morrisons has launched since the pandemic started, includes a British turkey breast joint, peeled potatoes and Christmas trimmings such as pigs in blankets, vegetables, stuffing, gravy and cranberry sauce.
People ordering the boxes will also receive a starter and dessert, as well as two freshly baked mince pies, two Christmas crackers, and a selection of wine.
Morrisons said the box, which costs £18.36 plus a £4.50 delivery charge, would come with step-by-step instructions and timings to help make it easy to prepare.
Morrisons customers can order the Christmas Dinner for Two Box from today until 13 December. It will be delivered on a day to suit them from 21 to 23 December, between 8am and 8pm.
"Our telephone service is a lifeline for many vulnerable people," said Morrisons CEO David Potts. "Thirty million British households will be shopping in the week up to Christmas and we do not want anyone to get left behind. Our doorstep delivery service will ensure those who can't leave their home to go shopping will still be able to enjoy their Christmas dinner."