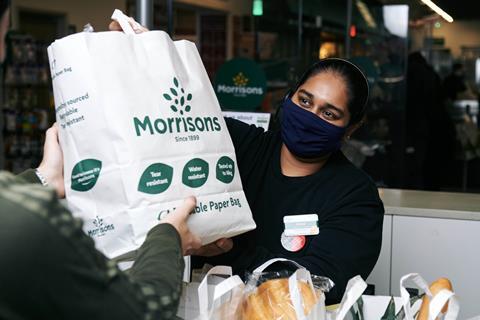 Morrisons has rescued half a million bags of surplus stock from going to waste thanks to its partnership with Too Good To Go.
The waste saved equates to 1,250 tonnes of CO2 emissions, or the equivalent to that emitted from 246 flights around the world.
The milestone comes two-and-a-half years after Morrisons became the first supermarket to partner with the anti-food waste app. The partnership sees Too Good To Go users search for stores taking part in the scheme that have unsold produce. They then purchase a 'magic bag' of food at risk of going to waste and collect it at an allotted time.
It also guarantees the bags of surplus stock contain at least three times the value of food paid for. At a Morrisons store specifically, surplus food bags are available for £3.09. They contain a variety of surplus grocery items, such as fruit & veg, milk, cheese, bread and baked goods.
"Our farmers, growers and suppliers spend many hours making good food," said Morrisons corporate services manager Luke Wellock. "And we don't want to see any of it go to waste – especially when it could be on someone's table and feeding a family.
"Too Good To Go's technology and their magic bags have helped us to find a home for food which could be wasted – whilst at the same time enabling more people to afford to eat well."
Too Good To Go UK MD Paschalis Loucaides said: "Since launching back in October 2019, our partnership with Morrisons has gone from strength to strength. Their commitment to fighting food waste has meant that they are the perfect partner for us and we're thrilled that together we are having such a great impact.
"Our app users love their Morrisons Magic Bags – not only are they preventing food waste but they're also getting delicious food at a great price. It really is a win-win-win."