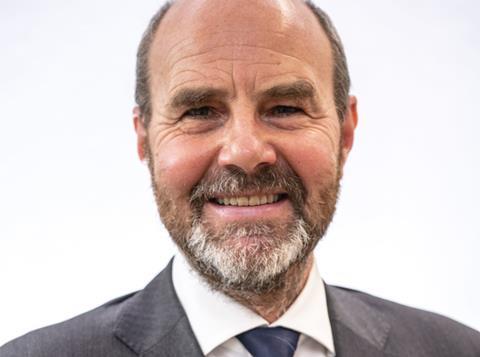 As I retire after 40 years in the grocery trade it is time to reflect on our industry, and it is fitting that I should do so in the magazine to which I have subscribed for even longer.
When I first started work in wholesaling during school holidays the photocopier had just become commercially available, but the process to copy a single sheet was long and laborious. Wines and spirits in cash & carry were delegated to a department managed by Grants of St James's as an afterthought to the main business of grocery. When we founded Parfetts in 1980 we took over a business in which the only claim to fame was expertise in selling returnable bottles. These were primarily alcoholic, with flagons of cider and pints of Guinness and Newcastle Brown, but also included Vimto. Managing the returns was a key part of the business, if a little smelly and dirty, but was, with the benefit of hindsight, the green way forward.
In those days, goods were priced on individual cases with sticky labels printed in long rolls – white and unpeelable for 'normal' prices, coloured and peelable for promotions. Inflation was rampant and the wholesalers' friend. Regular price increases were a profit opportunity at best and a disguise for poor buying at worst. Stock control was key to success but incredibly crude by modern standards. Every supplier's reps made regular calls on an agreed cycle, and stock control was on stock cards recording stock and order together with pricing of each purchase. On each visit the rep was required to walk around the depot and count and record stock on the card. Sales were calculated on the card and any new orders were recorded.
Sales were made at a checkout manned by a 'caller' who read out the price as he moved goods from one trolley to another, and an operator who inputted a department code and price, and then took the money. Stocktaking involved recording quantity and price and listing the value on adding machines with a paper roll print-out. Stock loss was a calculation of previous stock plus purchases minus sales. Accounting was by a Kalamazoo written ledger using NCR (no copy required) paper.
Forklift trucks were as much of a tool of the business then as now, but were much less controlled. No licence was needed and I jumped on and off trucks regularly with no training, or health & safety concerns.
Milk sales were much less important than today as either consumers or retailers used a milkman. Bread was delivered direct to store and bacon was delivered to the cash & carry in sides to be boned out on site and sliced by the retailer at point of sale.
Christmas was the key time for the business, setting the stage for the year that followed. In those days, consumers often didn't have alcohol regularly on the shopping list and trading up was the done thing.
In the mid-1980s the first EPoS systems came into the business, initially with a six-figure code placed on each item and input at the till, until scanning and barcodes joined the new tools in the late 1980s and checkouts became single manned. The benefits in efficiency were revolutionary.
The UK joined the EEC in 1973, before the single market was completed in 1992. Wholesalers have always been wheeler dealers and in those days were expert at exploiting any profit opportunity. There has always been imbalance in pricing vis a vis the multiple retailers and this was ruthlessly exploited. Bonuses on cigarettes were only given to favoured retailers and purchasing cigarettes from these retailers was a huge opportunity to increase margin. Beers, wines and spirits were a similar opportunity with a thriving market and 'trunkers' of beer going up and down the motorways. I remember buying multiple trunkers of baked beans from the Co-op, before Heinz twigged and pulled the plug. When Walkers Crisps were finally launched in Scotland the introductory bonuses were a major boost for existing stockists in England. Budgets were an opportunity to invest in as much alcohol and tobacco as you could afford, and most years this paid off.
Gradually it became clear that the advent of the single market was grossly distorting the alcohol market as criminals exploited duty fraud to trade in goods and even open their own wholesale depots. Over time it became clear that however hard legitimate wholesalers tried to validate their sources, it was impossible to buy alcohol other than from the brand owner to be 100% certain that it was not fraudulent. I have been at the forefront of FWD work with government to rid the trade of this evil since those days and at times it has been like hitting my head against a brick wall. Even today there is a significant loss to legitimate business from this fraud, even though the AWRS registration scheme has been a big step forward in countering it. Campaigning on wholesale issues has been a constant during my career. As well as duty fraud, themes have been price advantages unjustly enjoyed by multiple retailers, fighting supermarket planning applications and participating in several Competition Commission (later CMA) enquiries.
Equally rewarding was the opportunity to be chairman of Landmark Wholesale for 18 years, and work with members and colleagues to ensure the continued success of the group. Landmark was a vital part of Parfetts' success and the opportunity to put something back and influence the group was important to me.
One reason constantly cited by suppliers for the price advantage multiples enjoy was their direct connection to the consumer and the 'guarantee' that investment in price promotion would be passed on. By the late 1990s wholesalers had started to counter this with retail clubs, where progressive retailers agreed to pass on the benefit of promotional pricing only available to club members. This was not only the first time many independent retailers had used in-store promotions, but it has developed massively into more ambitious support of retailers by wholesalers including innovative symbol groups such as our own Go Local. This an ever-more important part of our business and without it we would not have survived.
When we took over the original depot we had anticipated that fresh food might be the opportunity to offer a point of difference. It quickly became apparent that this was not the case, and that concentrating on alcohol would pay dividends – a wise decision. At that time, convenience was in its infancy and grocers, greengrocers, butchers and off-licences were distinct categories. Off-licences in Stockport were almost all 'tied' to a brewer, more often than not the Unicorn chain controlled by Robinsons Brewery. These off-licences were strictly forbidden from buying outside the tie, but took great delight in doing so. The Robinsons pricing was significantly higher than that at cash & carry.
We took pride in our expertise in wines & spirits and I studied hard for the W&S Education Trust diploma exam, one step below Master of Wine. Jägermeister was a brand we stocked to illustrate our expertise in the category, and we were lucky if we sold a case in a year. Brands like Watneys Red Barrel, and Party Fours and Party Sevens, were massive. We bought Armadillo British sherry (five-gallon casks) in trunker quantities and it was sold on draught. QC and VP British sherry were the bottled equivalent also selling huge quantities. If you wanted to trade up there was Emva Cyprus sherry. Rum was important locally then and Wood's 100 and Pusser's were locally important. Following the gin revolution, the latest fashion for heritage and artisan rum after a long time of being unfashionable is intriguing.
Similarly, we were proved ahead of our time with fresh food. Bread and milk have now long been essential convenience offerings but while still massively behind the multiples, convenience is realising that despite being a difficult category to do well it is what the consumer demands.
Throughout my career it has been clear that customer relationships were a critical part of success – as much between staff and customers as business owners and customers – and that the trust generated by them was the key to successful business. Managers that understood this were and are worth their weight in gold, and if you had such a manager you valued and supported him in areas where he might not be quite so strong.
This philosophy meant that we gradually exceeded any family expectations and built a chain of six successful depots, with loyal staff and customers. If anything, my successors in managing the business are more focused than ever in listening to customers.
By 2006, our family business was looking to plan for the future and as has been well reported we started a journey to employee ownership in 2008. Since that time I have hugely enjoyed managing that transition and we completed the final elements of it in October 2018. It is now time for me to proudly pass on the reins to the next custodians and I shall retire this month having had the privilege of an exciting, fulfilling and enjoyable career in the wonderful grocery industry.
I don't know what the future holds – the demise of cash & carry has been predicted to be imminent throughout my career and hasn't happened yet. The future will certainly be challenging, whether it's about Amazon coming to the grocery market in the UK, or the tribulations of Brexit. In the meantime, I have made many friends among suppliers, customers, competitors, journalists and colleagues. Thank you all – it has been both a privilege and a pleasure to work with you.