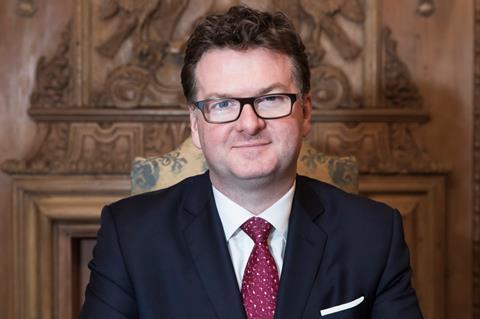 Fortnum & Mason CEO Ewan Venters is leaving the business to head up modern art gallery Hauser & Wirth.
The upmarket retailer confirmed Venters will be leaving in January and that it has already started the process of recruiting for his replacement.
Venters began his career in retail as a management trainee at Sainsbury's when he was a teenager, and stayed for almost a decade. Venters worked his way up to become personal assistant to then-deputy chairman John Vyman, before becoming citrus buyer for the supermarket.
He then moved to foodservice giant Brakes before being headhunted by Selfridges. Venters worked at the department store for seven years, heading up its dotcom business before moving to Fortnum & Mason in August 2012.
During his time at the helm, the business has tripled in size. He also oversaw the opening of its first standalone branch in 300 years (at London's Royal Exchange) in December 2018 and its first international branch in Hong Kong last November, and flipped its 40% locals 60% tourists trade split.
"Ewan has been a highly successful leader of this business, delivering consistent growth in profits, extending the footprint of the brand with new stores and driving product innovation," said Kate Hobhouse, chairman of Fortnum & Mason. "Ewan had a vision to make our brand more relevant to more people more often, and he has certainly fulfilled that. He leaves behind a business that is positioned to overcome the current difficulties of the retail sector and achieve even more success and deserves great credit for this. I wish him all the very best in his new role."
Venters added: "It is a tremendous wrench to leave Fortnum's, which is truly one of the world's great brands. I have enjoyed every minute of my time here, loved working with Kate, and I have had magnificent support from my team of executives, who I know will go on to achieve more success. It is, however, time for a new challenge and I have no doubt that Fortnum's, which has overcome all manner of difficulties in its 313-year history, is in excellent shape to navigate the uncertainty caused by the pandemic and is well positioned for future growth."