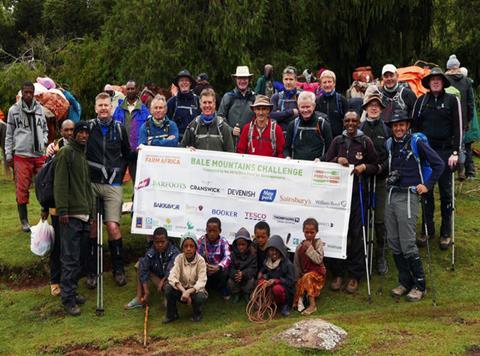 Scaling 4,000m peaks, scrambling through wild forest in sub-Saharan Africa, a team of 14 senior industry figures from retailers, wholesalers and manufacturers have trekked more than 115km through the Bale Mountains of Ethiopia, in the past week, touching down at Heathrow on Sunday.

So what exactly were they doing out there? And how did they get on? Having faced off African wolves, freezing night temperatures and exploding water packs, the team hope their blood, sweat and tears will raise £100,000 in sponsorship for Farm Africa, a charity that works with farmers to unlock the commercial potential in their smallholdings.

"It's about raising much-needed funds for charity," says Alan Gibson, UK and Ireland director at Moy Park, who joined well-known execs from Booker, Devenish, Dovecote Farms, Openfield, Tesco, Unilever, Waitrose and William Reed.

"It's an exercise in collaboration and cooperation for a really good cause," adds Tim Smith, Tesco group quality director and the former CEO of the Food Standards Agency. "We're all signed up the principles of what Farm Africa can, and does do."

Building a better future

It's estimated that rapidly growing populations and climate change will mean global food production needs to rise by some 70% over the next four decades to meet demand. With 60% of the world's uncultivated crop land, Africa holds huge capacity for development. "We don't give handouts, we help farmers help themselves," say the charity. "With better yields and business training from Farm Africa rural families are able to build sustainable businesses. With more income, they can construct better homes, pay for medicines and school costs and build a better future."

The Food for Good campaign aims to support them in this by uniting the food and hospitality industry to raise cash and lend a hand on the ground. Launched in 2011 the initiative has already raised £5m, with senior business leaders scaling Kilimanjaro , and digging swimming pool-sized fish ponds in Kenya. Earlier this year a team of nine women from the food & drink industry successfully constructed 90 beehives over three days in Tanzania to empower the area's women to create sustainable honey businesses.

After landing in Addis Ababa on 7 November, the group sweated it out for every penny of cash donated. Rising at 6am, the group covered 20km each day, scrabbling up rocky inclines and skirting a "labyrinth of volcanic lava flows with scenery to rival the Grand Canyon", says 2 Sisters MD Keith Packer.

After six days' toil the team were able to visit a Farm Africa project under threat from widespread deforestation as a result of unsustainable timber extraction. The charity is working alongside the Ethiopian government to coordinate efforts to reverse the damage by mentoring local communities in sustainable alternatives.

"We're able to follow the funds we're so generously being sponsored while we're there," adds Smith. "To see on the ground first-hand the project has been a really useful way of following this cash."

To add to the team's total and help them reach their target go to justgiving.com/teams/balemountains.
Food for Good has a wide range of UK corporate sponsors. Platinum sponsors for 2015 are:
ABP Food Group
Barfoots of Botley
Cranswick
Devenish Nutrition
Moy Park
Sainsbury's
William Reed/The Grocer