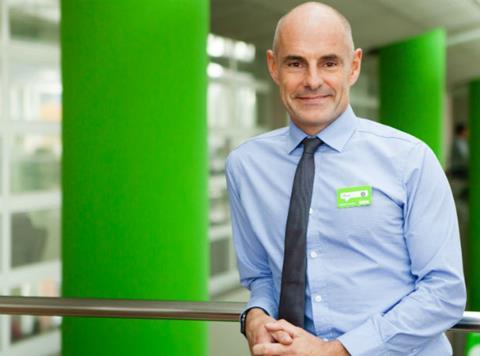 Asda's CEO in waiting has announced moves to beef up his leadership team ahead of taking over at the helm.
COO Roger Burnley, who takes over from Sean Clarke as Asda boss on 1 January, today revealed in a letter to staff that Anthony Hemmerdinger is to be promoted to the role of senior vice president, retail operations director.
Hemmerdinger, currently VP retail – south, has been at Asda for 18 months, having previously been the managing director of local pubs for brewing giant Greene King.
Prior to that he was managing director of telecoms for Sainsbury's and has also worked for Carphone Warehouse. Chris Walker, former COO at discounter Lidl, who was hired to oversee a revamp of Asda's smaller supermarkets in July last year as vice president – supermarkets, will take over as VP for retail – south.
Burnley said: "In the 11 months that Chris has been with us, he's made a remarkable difference to the supermarket division and I'm excited to see how he'll bring his passion for and approach to retailing to team south."
After two years in the commercial division, Steve Shirley is "returning to the field", announced Burnley, by taking Walker's role as VP – supermarkets.
Other changes in the shakeup see Mark Simpson, currently VP – central retail operations, take up a role working as VP – supply & replenishment, in the team of new merchandising boss Jesús Lorente.
Burnley said: "Mark has had seven successful years in operations and I'm really pleased he's taken this opportunity to pull our supply and replenishment functions together into one new team. I know he'll make a real difference next year."
Simpson will work under Lorente, who takes over from Andrew Moore, who is retiring, on 1 January.
Burnley also announced new arrivals to the Asda fold, including Jodie Tate, who will take the position of VP – central retail. She joins from Sainsbury's where she has held a number of operational roles, most recently leading 426 stores as zone managing director for the north.
Preyash Thakrar will also join Asda in the next few weeks as chief strategy officer, reporting directly to Burnley. He is currently head of strategy and real estate for Walmart Canada.
Phil Tenney, chief information officer, will assume the role of chief digital and tech officer and will join the Asda board to ramp up its digital element.
Burnley told staff: "Over the last few weeks I've given a lot of thought to my leadership team, in preparation for what will be another exciting year in our turnaround. While it's important we all stay firmly focused on giving customers a great experience over the next seven weeks, today I want to share details of some changes with you, so that we hit the ground running in the new year.
"I'm pleased with the shape and strength of my team for the year ahead."