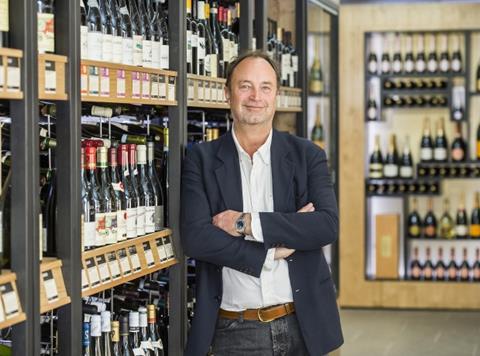 The founder of Naked Wines shocked the City on Thursday by stepping down, as the online retailer's losses continue to mount.
Rowan Gormley, who founded Naked in 2008 and took charge of the listed Majestic Wine group following a reverse takeover in 2015, announced he will step down after Christmas when the £111m sale of its store-based arm, including Majestic, is complete.
Naked said the decision comes after a secret 18 month succession planning process that will see current COO Nick Devlin take over leadership in the New Year.
Gormley said he didn't have the right skills. He was "a startup guy" and "it takes one set of skills to take a business from zero to £200m [of sales]… and a different set of skills to build it from there".
His departure comes with Naked posted widening losses in the first half of its financial year as it continues to spend heavily on recruiting new customers. Naked posted 16% revenue growth (in continuing business) to £87.5m in the six months to 30 September, representing underlying growth of 13%.
This growth was driven by its largest market, the US, which was up 24% on a reported basis and 17% on an underlying basis and is "trading well on all measures".
However, investment in new customers was up 29% in the period to £10.3m, which caused the group to fall to an adjusted EBIT loss of £3.8m compared with a loss of £1.7m in the same period last year.
The £111m sale of its Majestic Retail arm as well as its commercial and Lay & Wheeler business is expected to complete before the end of the calendar year.
The accounts illustrate the extent of the turnaround needed at Majestic Wine, which was bought by private equity firm Fortress for £95m .
Majestic retail revenues fell 5.3% in the first half to £116.5m, which was "as a result of customer uncertainty… driving lower footfall".
As a result Majestic's profits fell by more than 60% from £3.3m to £1.3m.
After its unhappy marriage with Naked The Grocer reported last month that Majestic had already given its range a major shake-up ahead of its sale to Fortress.
The retailer, which earlier this year hired former Tesco booze boss Rob Cooke to revamp its range, has introduced a swathe of new wines, beers and spirits, including many 'Majestic Classics' – which had disappeared under the reign of Gormley.
Responding to Gormley's departure, analysts at Peel Hunt said: "The sector will be a quieter and less interesting place without Rowan Gormley.
"The new man, Nick Devlin, hadn't been rolled out extensively to investors in advance and we suspect that the shares will be shaken by the news."
Majestic shares dropped 4.6% in morning trading to 250.5p, having been over 400p before its interim results in 2018.