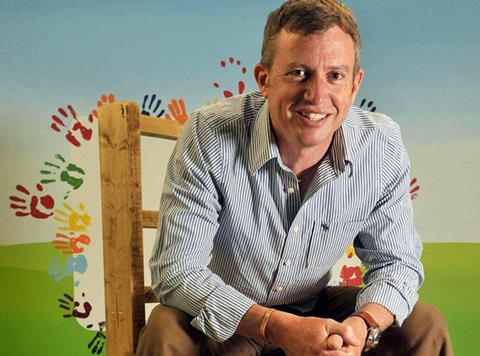 Ella's Kitchen founder Paul Lindley has been chosen to head a new taskforce being set up by London mayor Sadiq Khan to tackle childhood obesity in the capital.

The new Child Obesity Taskforce will launch later this year - with a mission to reduce childhood obesity and close the health inequality gap across the city.

With almost 40% of children aged 10 and 11 in London classed as overweight or obese, the mayor said he aimed to significantly reduce the "unacceptable level" by 2028.

Lindley will present a programme of work to improve the health of young Londoners.

The former managing director of Nickelodeon UK, Lindley founded organic baby and children's food brand Ella's Kitchen in 2006, naming it after his daughter.

It went on to become the UK's biggest babyfood brand, with the mission to "improve children's lives by developing healthier relationships with food".

Earlier this month, The Grocer revealed Lindley was stepping down as chair of the company.

Sadiq Khan said: "Paul's passion for improving the health and wellbeing of children is both inspiring and infectious and will provide just the momentum needed to take on this challenge. His exceptional track record as an entrepreneur and campaigner is very impressive and I'm confident he'll do a fantastic job in the role.

"The London Child Obesity Taskforce, with the support of partners including Guy's and St Thomas' Charity, will focus on tackling the capital's childhood obesity epidemic head-on - ensuring that all young Londoners are able to thrive and lead happy, healthy lives."

"I hugely welcome that the mayor has chosen to accelerate this endeavour, and our taskforce will respond with ideas, momentum, expertise and leadership to reimagine what is possible to help him create change to ensure London becomes somewhere where all children can grow up healthier," said Lindley.

Professor Corinna Hawkes, director of the Centre for Food Policy at City University and co-investigator on the UK government-funded Obesity Policy Research Unit, has been made deputy chair of the new group.

"Her outstanding and world-leading academic experience and knowledge of London is exactly what we'll need to make sure this taskforce is as impactful as we all want it to be," Lindley added.