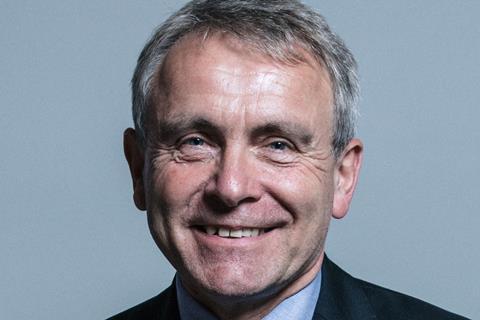 Former immigration minister Robert Goodwill has been appointed Defra's new farming minister.
The MP for Scarborough and Whitby replaces George Eustice, who stood down last week in protest at prime minster Theresa May's promise to allow MPs a vote to delay Brexit.
May's move followed the threat of a revolt by remain-supporting ministers, and was condemned by Eustice in his resignation letter as he bemoaned supporting the government "through a series of rather undignified retreats".
As immigration minister Goodwill gave evidence alongside Eustice to the Commons Efra Committee's inquiry into seasonal labour in March 2017. He provoked the ire of some in the growing sector by suggesting concerns over labour shortages "were a bit of a scare story".
The committee's subsequent report said it did not "share the confidence of the government that the sector does not have a problem: on the contrary, evidence submitted to this inquiry suggests the current problem is in danger of becoming a crisis if urgent measures are not taken".
Goodwill said he was joining Defra "at a critical time for our food, farming and fishing industries and am excited to have the opportunity to steer our historic fisheries and agriculture bills through parliament."
He would be expected to allay the fears of farmers and growers over the impact Brexit uncertainty was having on their businesses, suggested NFU president Minette Batters.
"This is a pivotal time for British farming. The agriculture bill currently going through parliament presents an opportunity to shape agricultural policy for generations to come. I will be stressing to the minister the importance of having food production at the heart of this new policy, alongside measures to protect and enhance our cherished countryside."
Goodwill has also served as a junior minister at the Department for Transport and as a minister for children. He is also a farmer, with 250 acres of land near Malton in North Yorkshire.
It comes as his new boss Michael Gove was today labelled the 'minister for consultations' after Labour Party analysis revealed he had launched 76 consultations since becoming environment secretary in June 2017 – a rate of nearly four every month.
More than half of the consultations had failed to produce any government action whatsoever, Labour said, with only one piece of primary legislation passed.
Shadow environment secretary, Sue Hayman, who undertook the analysis, said the findings raised "serious questions" about Gove's ability to force through his policies in a government "tearing itself apart over Brexit".