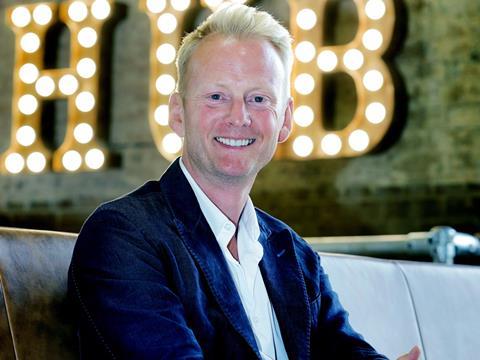 Scott Weavers-Wright does not like to sit still. So one can only imagine the frustration he felt as Kiddicare, the disruptive online childrenswear and accessories business he had founded somehow turned into a bricks and mortar operation.

Morrisons had acquired it for £70m in 2011 as the grocer looked to gain an online presence at long last. And Weavers-Wright was promised he would play a leading role in the journey it was embarking on.

He initially took the title of MD Morrisons.com (non-food), and after just over two years he became chief architect for Morrisons.com, a role he stayed in for 10 months. But he left after Morrisons entered a £241m deal to have its online grocery operation run by Ocado.

"Fundamentally Morrisons wasn't ready to go online when it bought Kiddicare," he says. "It gave it a massive jump start but it was also an OMG moment. I had a vision of a single platform that was built around the customer, with a single view, single data and a single checkout. But it was a confusing time and it wasn't a journey they were ready for."

Now Weavers-Wright is back in business. And if his corporate experience proved draining, it clearly didn't take him long to rediscover his mojo.

"I took three months off and realised that at 42 I was not ready for retirement," he says.

So Weavers-Wright spent time catching up with contacts in some of the world's biggest tech companies, including Google, then got in touch with his old team members at Kiddicare, whom he had brought to Morrisons with him.

"I got the band back together 18 months ago," he recalls, with a beaming smile, in his trendy office in Stamford. And he's promising that his new venture, Elevaate, will revolutionise the way retailers and suppliers manage their promotions online.

The cloud platform-based system is designed to give both retailers and suppliers the ability to replicate online the excitement and sales uplifts that featured space achieves in-store. And, crucially for retailers, it can also deliver supplier-funded support.

In a physical store, suppliers have always paid the retailer for prime shelf positions. Elevaate allows a retailer to create prominent spaces on its website, which suppliers can bid against each other to feature in.

The technology to enable this is one Weavers-Wright was beginning to develop with Kiddicare. It can plug into existing retailer web platforms without the need for a major and expensive overhaul of IT.

The first major retailer in the UK to use it is Iceland, while suppliers to have signed up include Unilever, MARS, Coca-Cola, Barr and Birds Eye. He says suppliers have experienced an average sales uplift of 145% for products pushed through the Elevaate platform and he is keen to work with other retailers on the project - even Morrisons.

"I would certainly work with them again. I bear no grudges. My main contact there was Richard Pennycook (now CEO of The Co-operative Group) and I had a great working relationship with him," he says.

However he worries that the major grocers are often too risk-averse and that the decision-making process can take too long, a problem exacerbated by the chopping and changing of senior management that is so prevalent right now.

"I think the chairman should be making more of these strategic decisions. They usually stay in the job longer than a CEO. The chairman should be doing more and letting the CEO get on with the day job."

He is also critical of retailer attempts to embrace technology through labs and hackathons.

"I don't think commercially much has come out of labs that really impact on retailers' finances. Without wanting to sound arrogant it is not the same as what we do, it's PR," he argues.

Amazon Fresh

While acknowledging the traditional grocers are under huge pressure right now thanks to the rise of the discounters he also fears they may be too focused on that threat to properly focus on the challenge soon to be presented by Amazon, which is expected to debut its Fresh service in the UK imminently.

"This difference with Amazon compared with the big grocers is the entrepreneurial nature of the online giant. Would Amazon take years to implement a new piece of tech? The good thing about it is that it is prepared to fail quickly."

This attitude echoes his own business mantra "that failure is an event, not a person", and he warns that Amazon's entry could be a "game changer".

"The grocers are hurting over Aldi and Lidl and then up pops Amazon," he says. "They will have to change. The world is moving towards one hour same day delivery and the grocers need to be able to provide that."

As it happens, Elevaate is one of 10 projects that Weavers-Wright is exploring through his investment business Haatch. But Elevaate is the "most exciting one," he says. "It's great to be back in retail."

Elevaate is currently going through a second round of funding and he has increased the UK workforce from 16 to 20. The service is going live in Australia and he is close to landing a major retailer in the US. But it will be interesting to see if any of the big UK retailers follow in Iceland's footsteps. And for Weavers-Wright that can't happen soon enough.
Snapshot
Name: Scott Weavers-Wright
Age: 44
Place of birth: Changi, Singapore (RAF baby)
Family: Married to Elaine (childhood sweetheart) with two kids (Sophie 21 & Charlie 12)
Career highlight: Building Kiddicare into the number one baby nursery business in the UK and achieving £70m sale for the family
Career lowlight: 21st Century Computers failing after seven years - the business I started aged 18
Best piece of advice: Failure is an event not a person and don't believe the bullshit
Business mantra: It's in the detail & restless innovation
Business idol: Richard Branson and Zig Ziglar
Hobbies: Skiing & scuba
Favourite meal: Nothing beats fresh fish in Barbados and a glass of Sancerre
Favourite film: The Thomas Crown Affair
Favourite disruptive business: Uber
Biggest challenge: Taking a small family business on an enterprise/corporate journey and risking it all